It looks like 8th grade JV has picked up a game TOMORROW vs. Montesano at HMS. It is scheduled for 4:00 pm. This is conditional on getting officials. Stay tuned.


Mr. Nitti went home sick. There will be no JV E-Sports today. We apologize for the short notice.

Week at a Glance for HMS. 3rd Quarter begins Monday. Basketball has its only game action on Monday, also.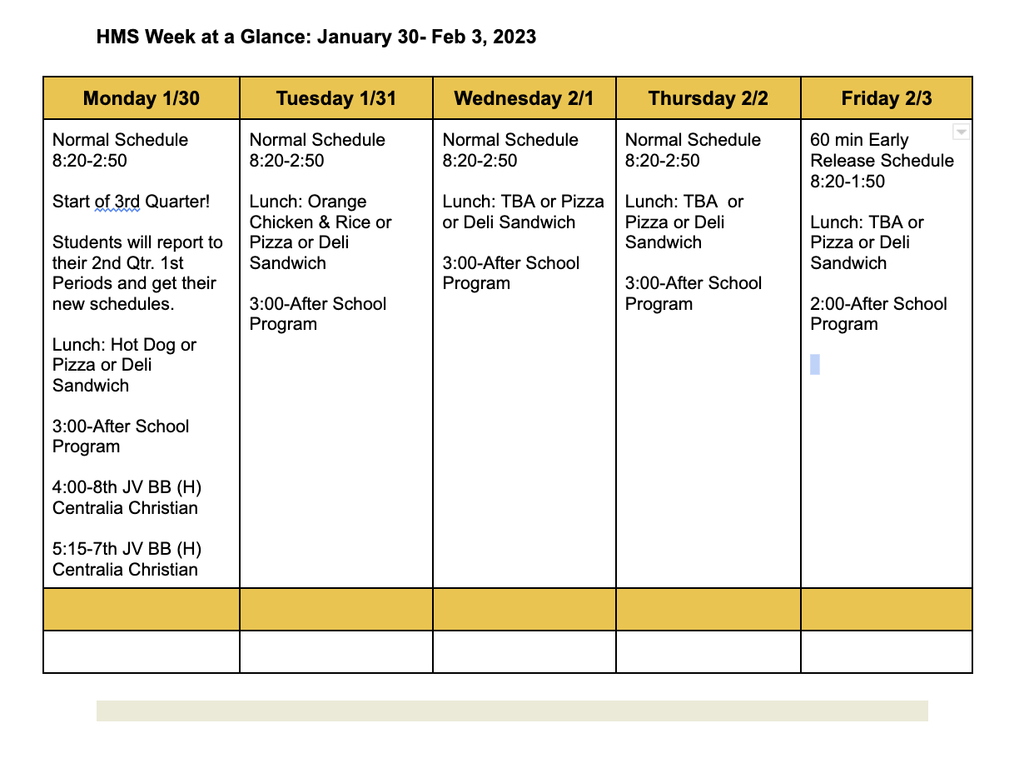 Reminder, tonight's home game vs. Elma JV is 8th Grade JV only. There is no 7th Grade JV game tonight.

No Cheer tonight. Cheerleaders will not be performing at the game. Sorry for the late notice.

There is no pep band practice at HMS today. Sorry for the late notice.

Some added play dates for Boy's Basketball!! Varsity has confirmed games on February 6 @ Centralia (7th-4:00; 8th-5:15), and February 13 @ Rochester (7th-4:00; 8th-5:15). JV has a game waiting to be confirmed on February 13 (H) Rochester (7th-4:00; 8th-5:15). Mr. Krohn hopes to have a game on February 6 (H) Centralia, but we are waiting on confirmation from Centralia. Stay Tuned!

Parents and Students: For Planning purposes...No After School Program on February 6.

Hey 6, 7, 8 graders: Do you want to travel to Washington DC for Spring Break 2024? If you are interested please come to an informational meeting on Monday January 23, or January 30 at 6:00 pm at Central School to get the details. Travel will be Spring Break 2024 and it is open to this year's 6-8 grade students! For more information you can email Laurie Gordon at
lgordon@hoquiam.net
.

Week at a Glance for January 23-27. Second quarter ends on Friday, and we have basketball Tuesday, Wednesday, and Thursday!

There has been a change in date for the JV Basketball games at Tumwater MS, from February 7, to February 6. Play times will be the same. It has been updated on our school calendar.

Our Week at a Glance for the week of January 16-20. Boys Basketball tips off its season with Varsity on the road Tuesday, JV at home Wednesday, Varsity at home Thursday, with JV on the road Thursday. There has been a game time change from what we sent out last week for Tuesday's games at Tenino. 8th Grade will play at 5:00, with 7th playing at 6:00. Have a good week!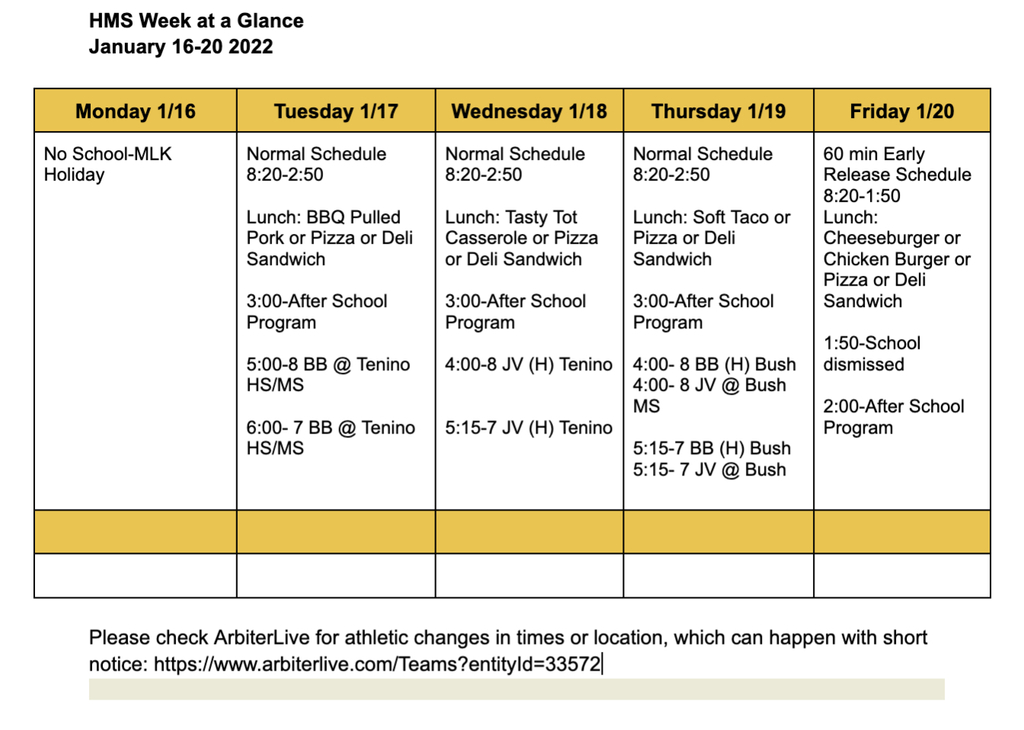 Here is our full basketball schedule for 2023, varsity and junior varsity. Note that at both levels, through the month of January, 8th grade has the 4:00 game and 7th grade has the 5:15 game. After February 1, it reverses. Generally if Varsity is home, JV is away and vice versa.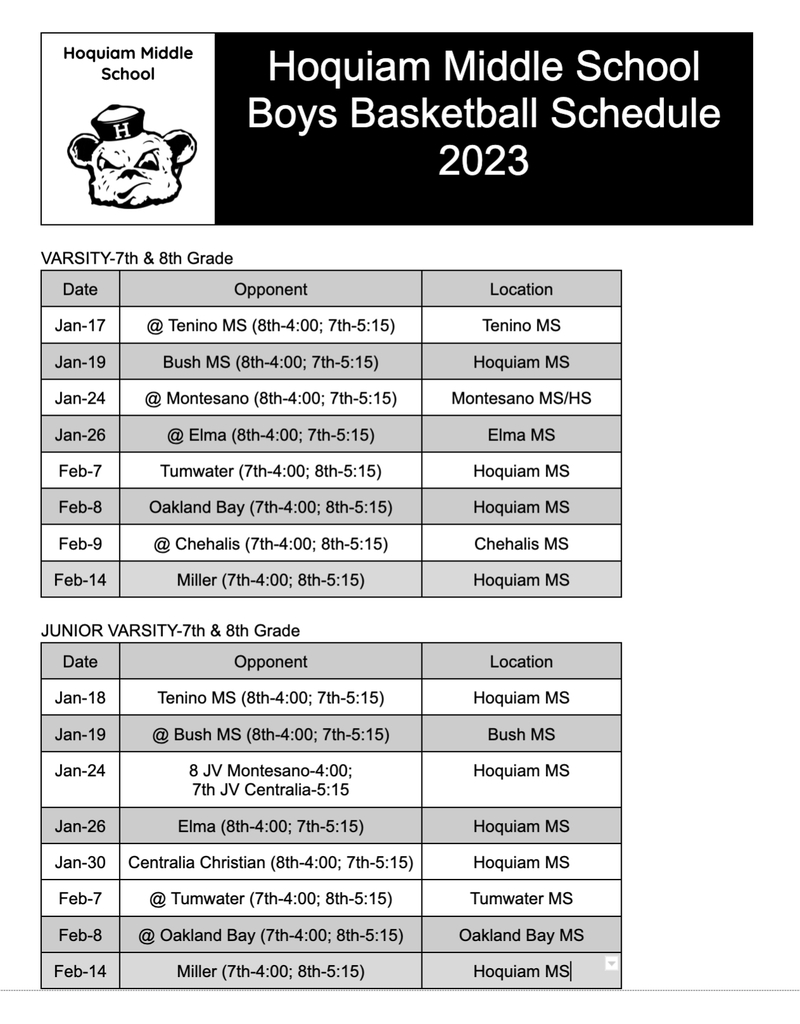 HMS Choir is looking for someone who has piano skills and a few hours to play a few times per week. If you have the skills, have the time, you could make a big difference in some young lives! Please contact Ms. Schmidt if you have questions and/or are interested. You can call the HMS main office, and either Ms. Schmidt or the principal will call you back. Or you can email Mr. Cook at
dcook@hoquiam.net
. Thank you for your consideration!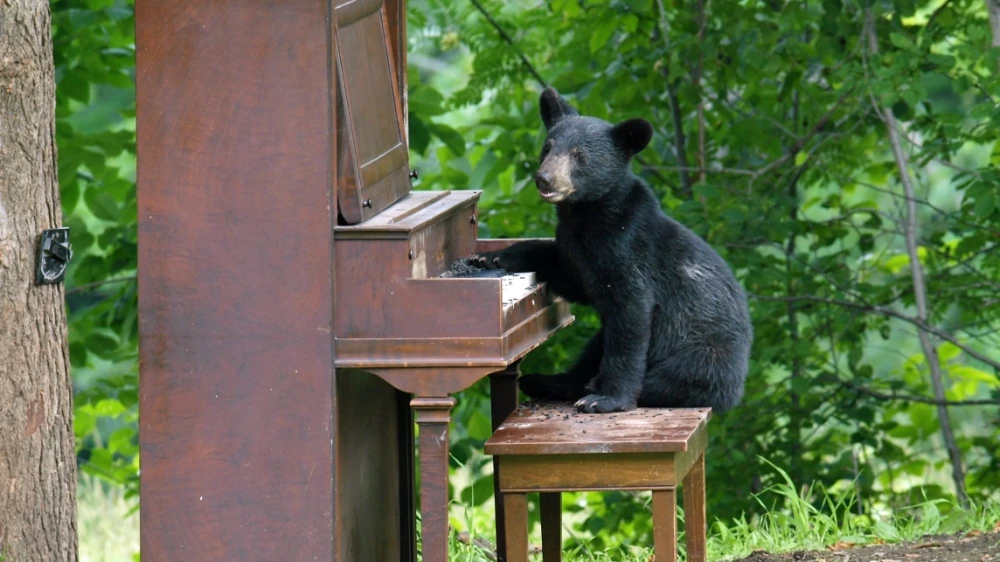 Getting information out about a Youth Soccer Select team for middle school aged girls!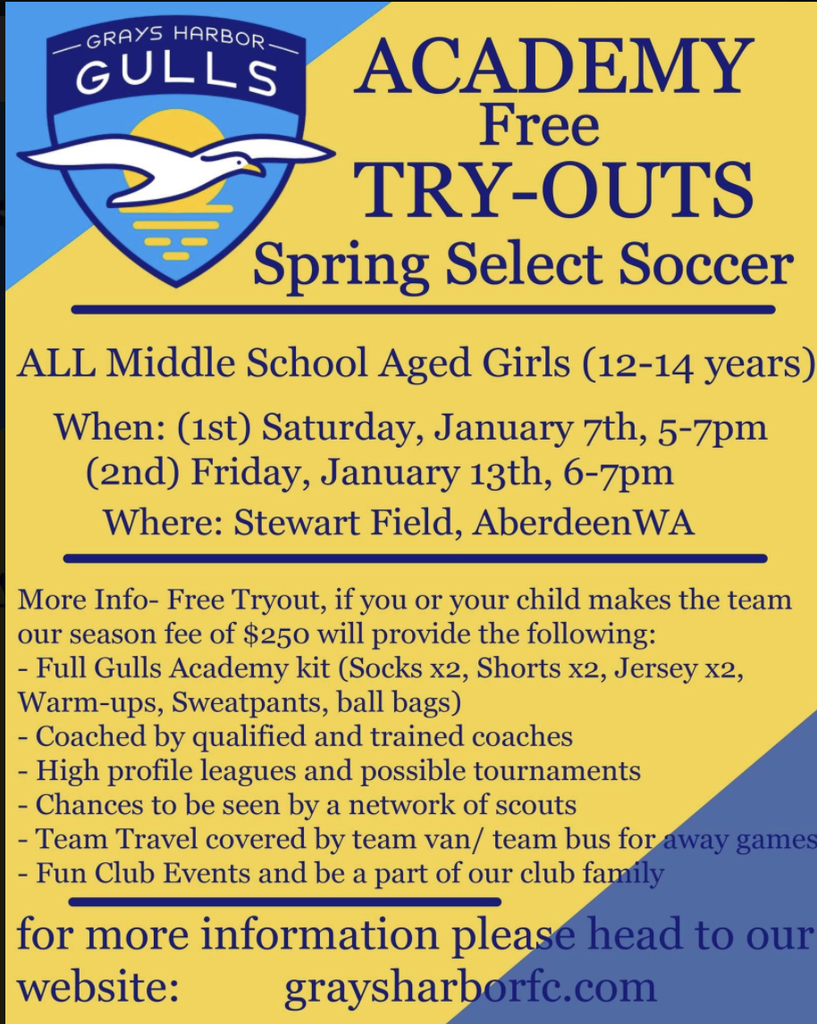 Varsity Boys Basketball Schedule is out! JV coming very soon.

Sorry...forgot the Hope Week dress up days on the Week at a Glance: Today was Pajama Day; Tomorrow is dress like a character in your favorite movie day; Wednesday is Villains/Hero Day; Thursday is One Color day...wear as much of your class color as you can-6th Grade is purple, 7th Grade is blue, 8th Grade is black; Friday is dress as your favorite teacher day!

Week at a Glance for the Week of 1/9-13. Not gonna lie...that Friday the 13th at the end has me nervous...Enjoy your weekend!