Anyone interested in summer sports and/or 2022-2023 teams, sign ups are now available on Final Forms. Log in and look for the 2022-2023 school year and get signed up so we have everything needed to be involved! Provide your grade for the 2022-2023 school year! Any questions - please email AD at
aduvall@hoquiam.net
.

The track meet on Wednesday is a 3:30 start time, not a 5:00 pm start time as reported in the Week at a Glance. We apologize for the inconvenience.

8th Grade Moving Up Assembly Information: When: June 14, 2022 Where: Hoquiam High School Gym Time: 11:30 a.m. for the Ceremony, there is a Mandatory Practice at 8:15 a.m. A Letter is being mailed with more information early this week.

Here is our calendar for the week of 5/16-20

There is information from Harbor Youth Soccer on Fall Soccer Registration available in the HMS Office. There are deadlines and cost incentives for signing up before June 30th, as well as contact information for any students interested. There is an online signup at harborsoccer.com.

Track Parents and Athletes: There will be no track and field practice on Friday. On Saturday, May 14, the bus will depart for the meet at Elma at 9:45 a.m. Athletes are asked to be at HMS at 9:30 on that day.

Week at a Glance for the upcoming week: ELA testing begins for grades 6-8 Our first home track meet is Tuesday at 5:00 pm at HHS!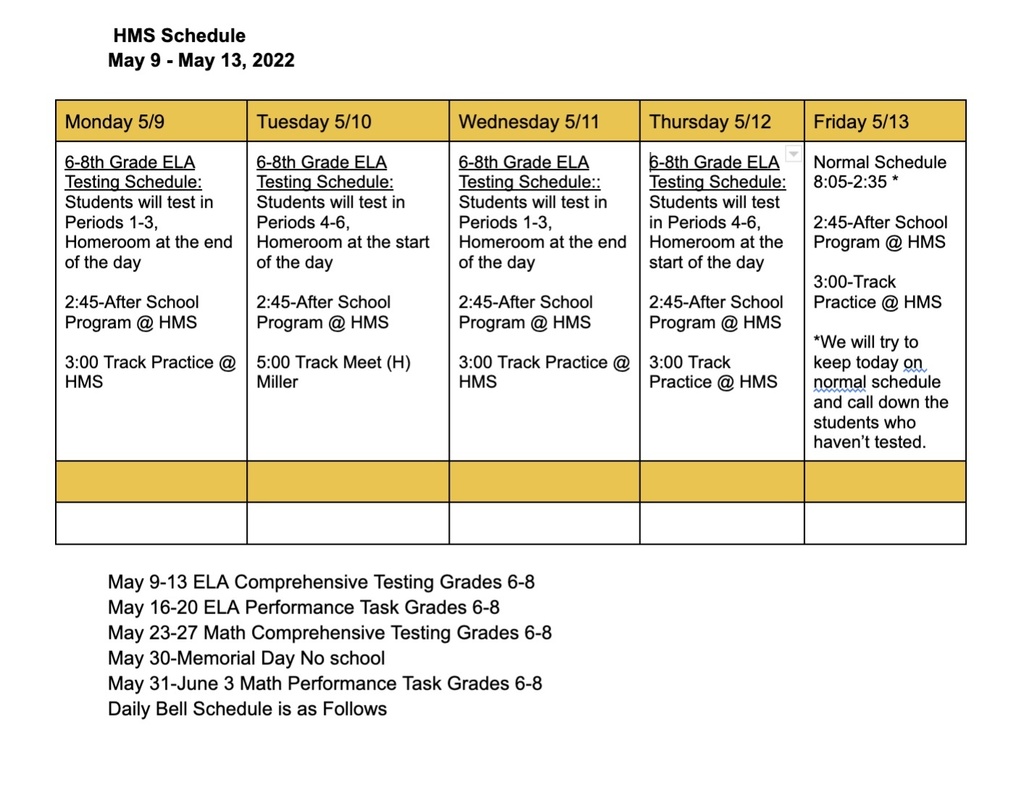 Thursday, students from HMS who have signed up for a march drawing attention to the historic issue of Indigenous Women who have gone missing will be taking part in a march in combination with students from HHS. Students will come together at HHS and march the circuit of the high school campus before returning to class. Students are asked to wear their tshirts if they signed up. Also, Thursday will mark the debut of the After School Program to HMS. Students who have filled out the paperwork are asked to meet in the cafeteria at 2:45.

Due to some unavoidable athletic High School State conflicts and Middle School Regional athletic conflicts, we are opting to reschedule our ALL-District Band Concert to Friday, May 20th at 7:00pm in the H.S. Gym so that ALL students can participate. We sincerely hope that this does not cause scheduling conflicts and thank you all for your support and understanding

Sorry...The track meet Wednesday at 4:00 is at MONTESANO...Centralia is a team that will be there too, but Montesano is our host. Sorry for the confusion!

Our Weekly Schedule for May 2-6. We have Science Testing going on in 8th Grade classes, and our 2nd Track Meet on Wednesday at Centralia. Note that it is a 4:00 start! Bell Schedules will be emailed out to students and parents.

Signups are happening this week for the After School Program, which we will be kicking off next week. Students may sign up at lunch and ask specific questions. Afterschool Program offers Homework Help, Tutoring with an emphasis on math and English, snacks, one meal and transportation home. The program will run from 2:55 until 6:00 pm. Students may be picked up before 6:00 pm, but must be picked up by 6:00 pm. For more information call Francisco (360) 310-9269 or email
pancho4help@yahoo.com

This message was sent on behalf of Wild Grief by PSESD's Student Support Services Team: Wild Grief offers unique nature based programs for grieving youth and families. Their programs combine peer support and nature connection to help anyone who has lost a loved one build community, normalize the grief experience, and draw upon nature as a source of resilience and healing. All programs are free and we work to make them as accessible as possible by providing all needed gear and offering gas cards if needed. We are currently accepting applications for our summer Teen Backpacking Trips and Family Journey Camp Out. The priority application deadline is April 30th. We will most likely extend the deadline for the Teen Backpacking Trips out a few weeks because we have three trips this year and have a lot of spots available still. Our Family Journey Camp Out is for bereaved families with children under 13. All food, camping gear, and camping fees are provided at no cost. Families will have fun together on hikes and in games, connect with other grieving families, and learn skills and ways to be with each other ongoing through the loss. There will be opportunities to process grief through conversations, creative activities, and nature connection together as a family as well as in peer groups. You can read more and apply here:
https://wildgrief.org/family-journey
We also have our cornerstone Teen Backpacking Trip. This is a 4-day adventure into the wilderness with 8 teens and 4 leaders to experience the awe inspiring beauty of nature, learn something about your grief and have fun! Free for grieving teens and all backpacking gear and food are provided. No experience necessary! Read more and apply at
www.wildgrief.org/teen-wilderness-trek
Check out our FAQ:
https://wildgrief.org/teen-backpack-faqs
Or register to attend our zoom info session on Wednesday, April 27th from 6-7:
https://hipaa.jotform.com/220936873770061

May 2-6 HMS is hosting a Book Fair in the HMS Library. Students will be able to peruse options and order books. It is a good time to stock up on some high interest reading material before Summer! For more information, please call Ms. Forkum at 360-538-8220.

Cub Track Parents: I'm sorry, I didn't realize track practice had been cancelled today when I sent out the week at a glance. My apologies for the confusion. Just to be clear, there is NO practice today for Track. Thank You!

Our Weekly Schedule-Highlights: Monday is an 11:05 early release, and Thursday is our first Track Meet. It is also Hope Week put on by Hope Squad!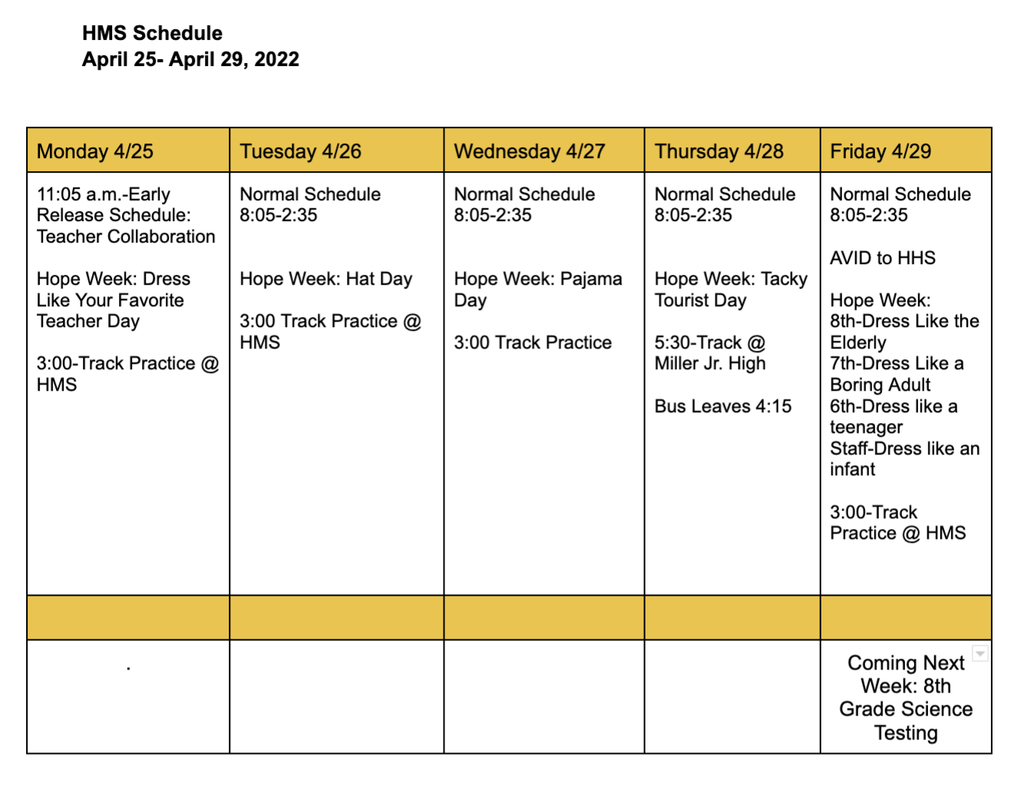 Reminder that Monday, April 25 is an 11:05 a.m. early release. It is a District Collaboration Day throughout the Hoquiam School District. Lunches will be served on a grab and go basis.

Dear Parents/Guardians: This spring your student in grades 6-8 and 10 will take the Smarter Balanced tests in math and English language arts. Students in grade 8 will also take the Washington Comprehensive Assessment of Science (WCAS). The results from these tests will give a more accurate picture of whether students are on track to be ready for college or career. Most students will take the tests online. Our school is scheduled to take the tests on the following dates: 8th Grade WCAS Science-May 2-6; ELA Comprehensive Test May 9-13; ELA Performance Task-May 16-20; Math Comprehensive Test-May 23-26; Math Performance Task-May 31-June 3 For more information about the Smarter Balanced and WCAS tests, visit:
https://www.k12.wa.us/student-success/testing/state-testing-overview
, and click on the name of the test. To try out an online Smarter Balanced practice test or WCAS training test, visit:
https://login10.cloud1.tds.cambiumast.com/student/V571/Pages/LoginShell.aspx?c=Washington_PT&a=student
Please call or email Ms. Andrews (360-538-8224 or
randrews@hoquiam.net
) if you have questions about state testing. Thank you for continuing to work with us to make sure your student is successful. Sincerely, Derek Cook, Principal HMS

Week At A Glance for 4/18-22 4th Quarter starts Monday. Students will get their schedules in Homeroom. Homeroom rosters have been posted in the main entrance area by the elevator for students who have a change in homeroom.

Congratulations to our Hoquiam Middle School students of the month. Each month 8th a grade teachers select 2 students to be recognized by the Rotary Club of Hoquiam. Congratulations for the month of April go to Hannah S. And Joey B. The students are pictured here with Rotary Club of Hoquiam President Jack Durney.