HMS Parents and Students: Pictures from picture day are already up online for you to view and order. Here is the information: School Pictures are Ready! View and order at
https://shop.jostenspix.com/login
--HOQUIAM MIDDLE SCHOOL-- --Event Code: FE162123-- --Also Needed: Lunch ID

HMS Students and Parents: Wednesday Sports lineup--7th Grade Football cancelled; 8th Grade (H) Tenino is being played on Wednesday instead of Thursday. Cross Country is @ Aberdeen in Cosi's Makarenko Park be there by 3:30 or parking gets....interesting.

HMS Parents and Students: Picture retake day is October 27. We will give out more information as we get closer to the date.

HMS Parents and Students: Week at a Glance for September 18-22. Soccer and Picture day on Monday, Cross Country and Football on Wednesday. Enjoy the rest of your weekend!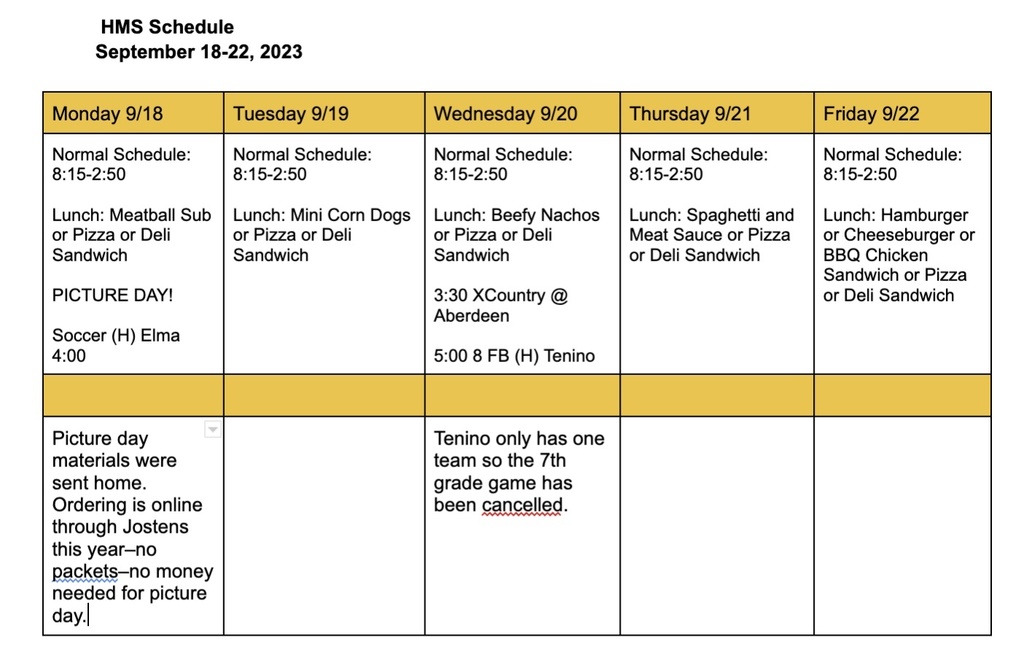 HMS Students and Parents: Reminder that Monday is PICTURE DAY!! We sent home information earlier this week, but am reposting it.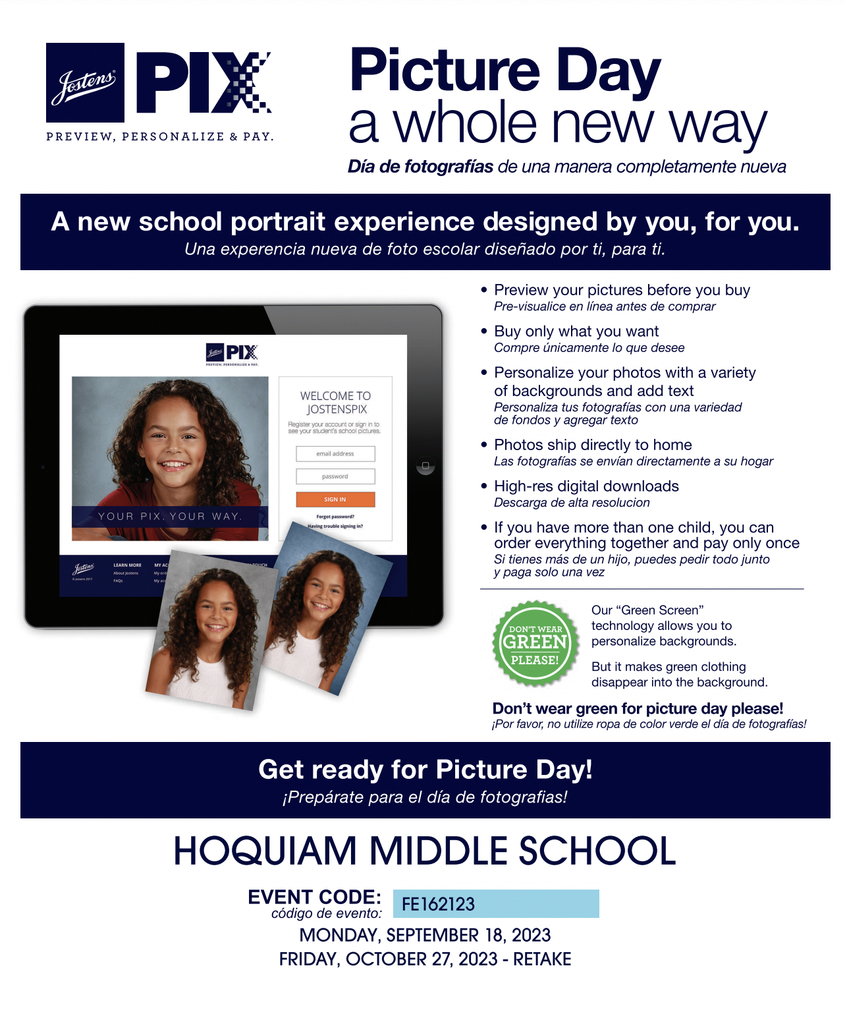 HMS Parents and Students: Congratulations to our Cross Country Team who had a great showing in their first meet at Hoquiam yesterday! On a hot muggy day, Cub runners placed very well in the field of 80 plus runners. 8th Grader Caleb Gudino took first overall, and smashed a course record by 6 seconds! Cross Country is at Aberdeen next Wednesday!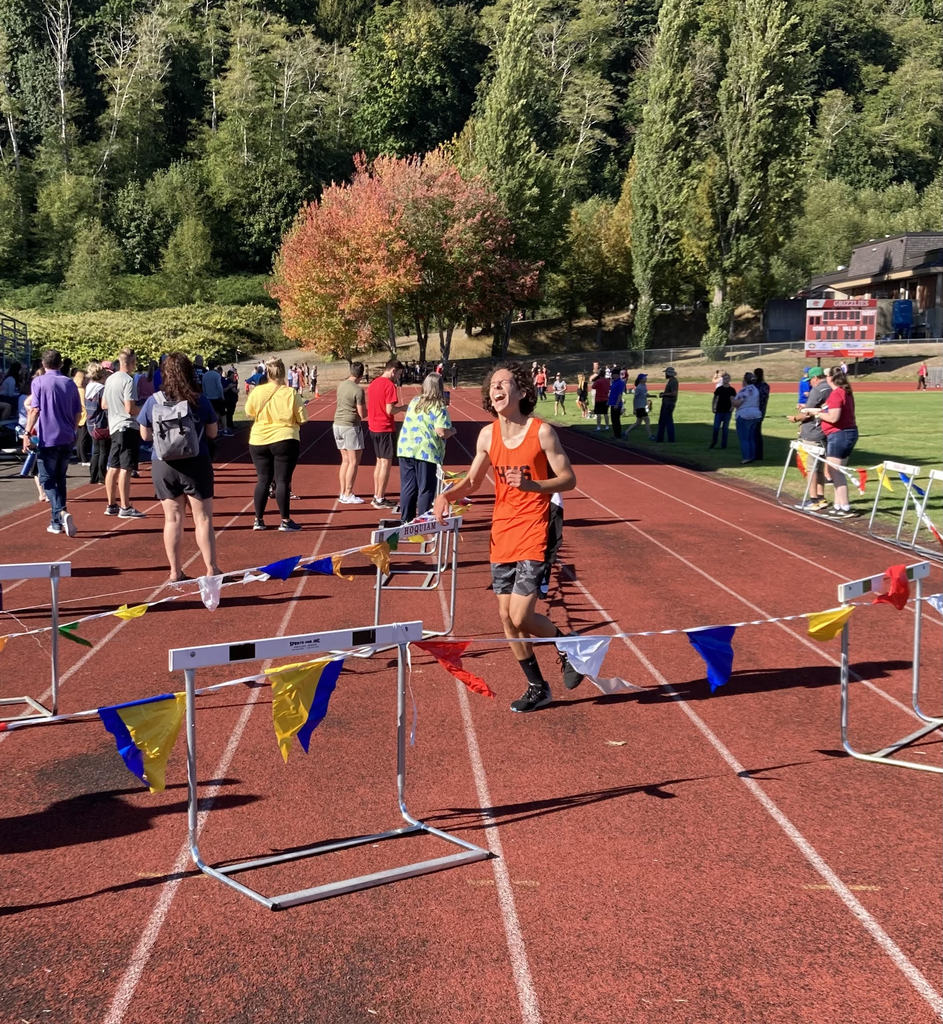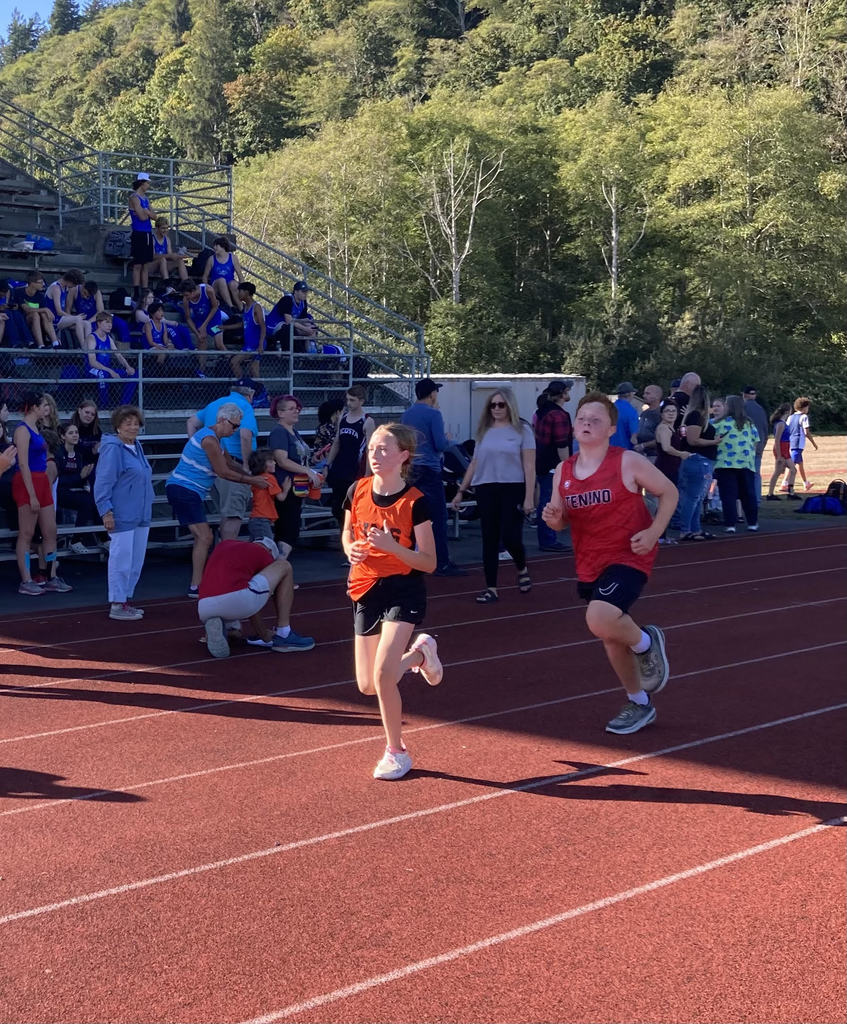 HMS Football Parents and Students: Changes to our schedule for next week: Tenino only has one team, 8th Grade. So the 7th grade game next week is cancelled. The 8th grade game will be on Wednesday, when 7th was supposed to play, due to Tenino transportation issues.

HMS Parents: The Friday early releases begin in October. We are on full days on Fridays through September.

HMS Cross Country Parents: The meet at home today has been pushed back to a 4:00 start for the Middle School races. I would still get their early as parking could be challenging (there are almost 80 runners in the middle school race alone). Should be a beautiful afternoon for a race! Go Cubs!

HMS Parents and Students: Picture Day is coming! Monday, September 18. Details are attached to this post. Students will be given a hard copy of the information. Jostens now does everything online, so no picture packets, no sending money to school. It is ALL online now. If you have questions, please call our main office at 360-538-8220.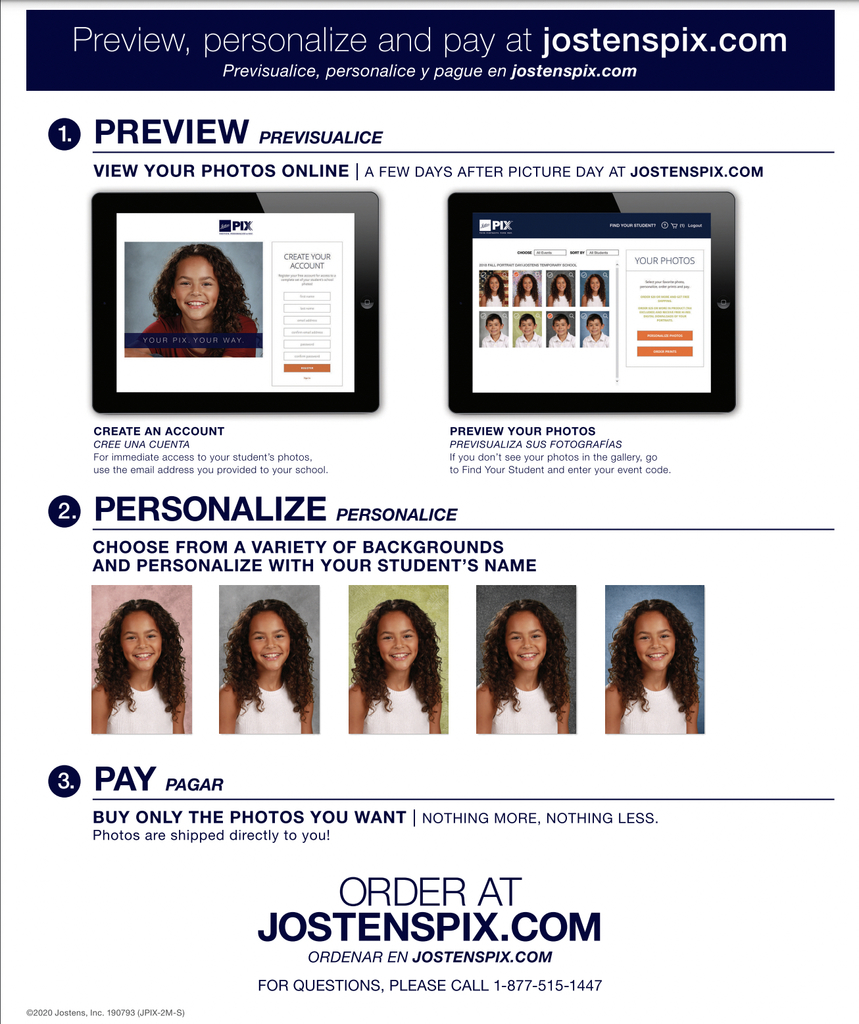 HMS Band Parents and Students: Yellow forms for instrument rental need to be in tomorrow and no later than Wednesday! Do not forget to get them filled out and returned ASAP! It must be signed by both you and your parents before we can issue and instrument. Beginning Band: Permission slips for mini-band camp are due to Ms. Schmidt Friday.

HMS Football Parents and Students: Tomorrows games will be played at Shelton Stadium at the high school. 7th grade at 5:00; 8th grade at 7:00 pm.

HMS Students and Parents: Reminder that Student Handbook Signature pages are due tomorrow if they are going to count for Homeroom points for the Cubby McStuffin Homeroom Trophy of Awesomeness!

Apologies, the Week at a Glance had the wrong dismissal times for next week. School is actually dismissed at 2:50, not 2:45.

HMS Parents and Students: Week at a Glance for Sept. 11-15--Soccer plays at home Monday and is on the road Wednesday, while Football travels to Shelton on Tuesday for a double header, and Cross Country hosts the league meet Thursday. Week 2 is busy! Enjoy the weekend, and hope to see everyone at Logger's Playday!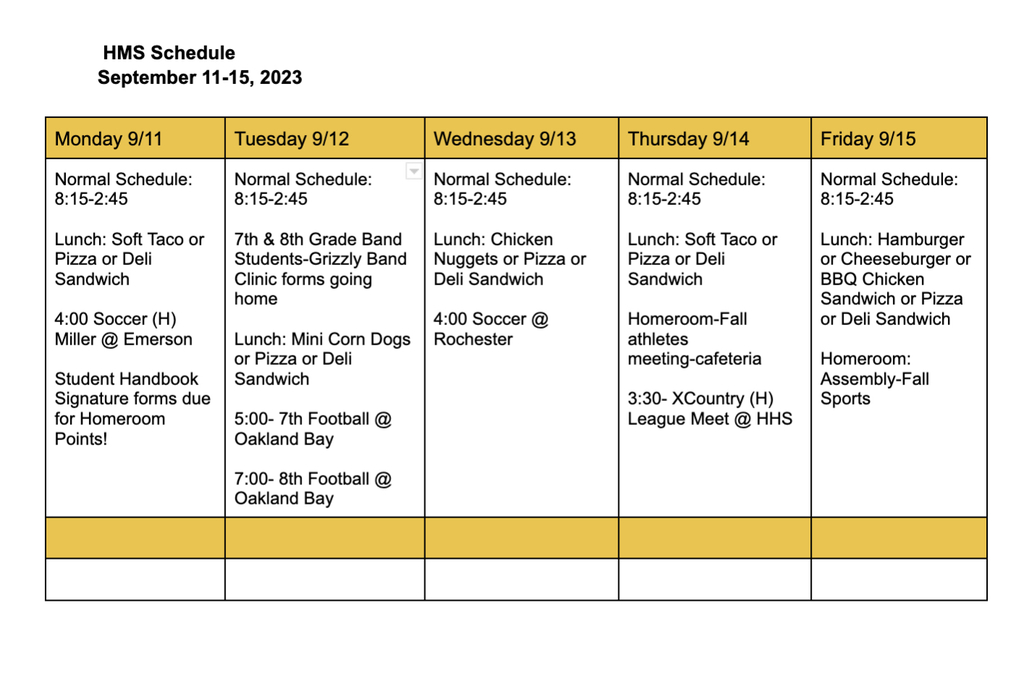 HMS Students and Parents: Tomorrow (Friday) is our first full day of school. Students will be dismissed at 2:50 p.m. Students will be given a Puyallup Fair ticket (one per student) that gets them into the fair on any day (Except Tuesdays) until September 24. You can get more information on the Puyallup Fair by going to their website thefair.com . Also a reminder that students will or have brought home a handbook signature page. Please sign and return these...their Homerooms get points if it is by Monday!

HMS Cross Country: The September 19 meet at Forks has been cancelled. Instead, the Cross Country team will participate in a meet at Aberdeen on September 20, at 3:30 pm. The meet will take place at Makarenko Park in Cosmopolis. That's a small savings in gas money :)

It's been a few years since HMS topped their crosstown rivals in a football game. Tonight that streak came to an end! Congratulations to our 7th grade football team for their impressive 33-14 win over Miller tonight! Way to go Cubs!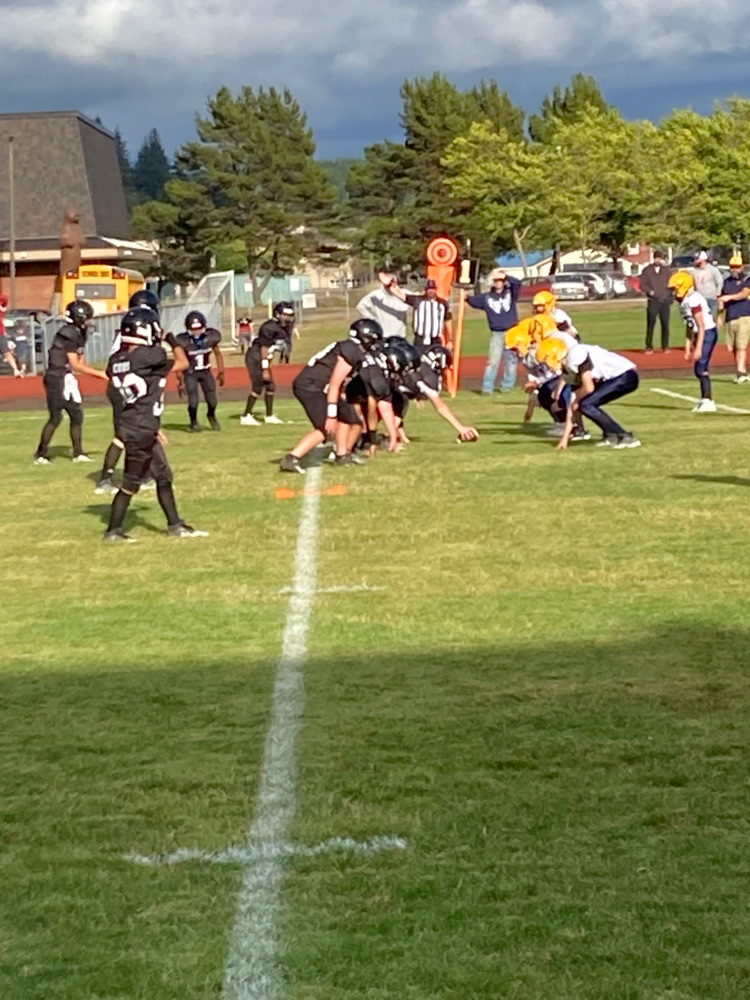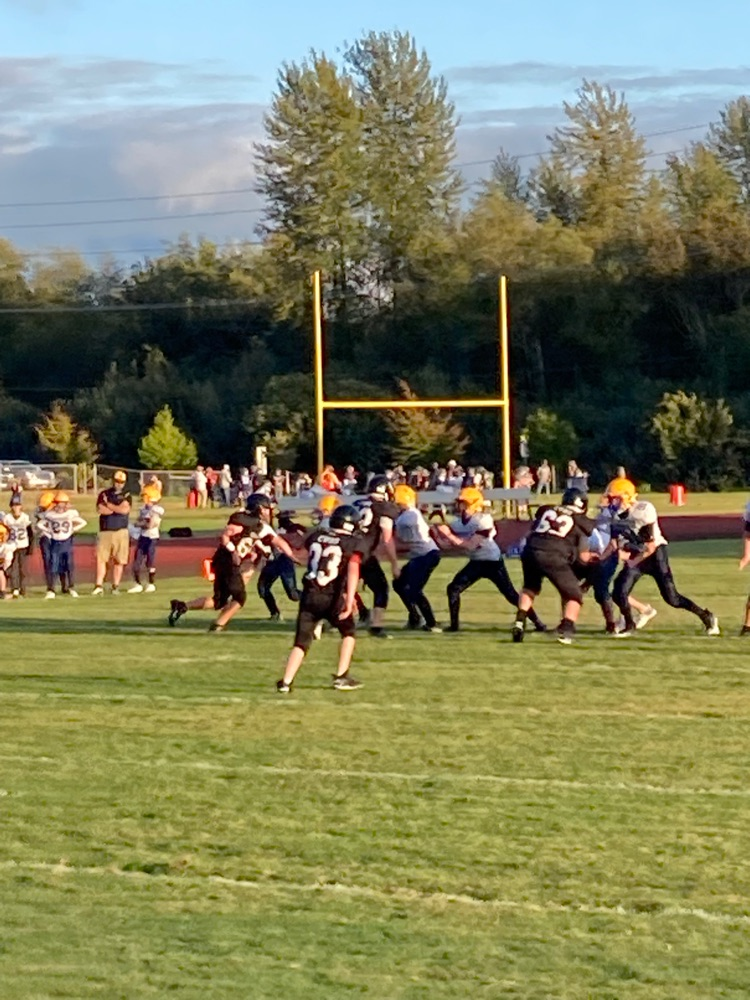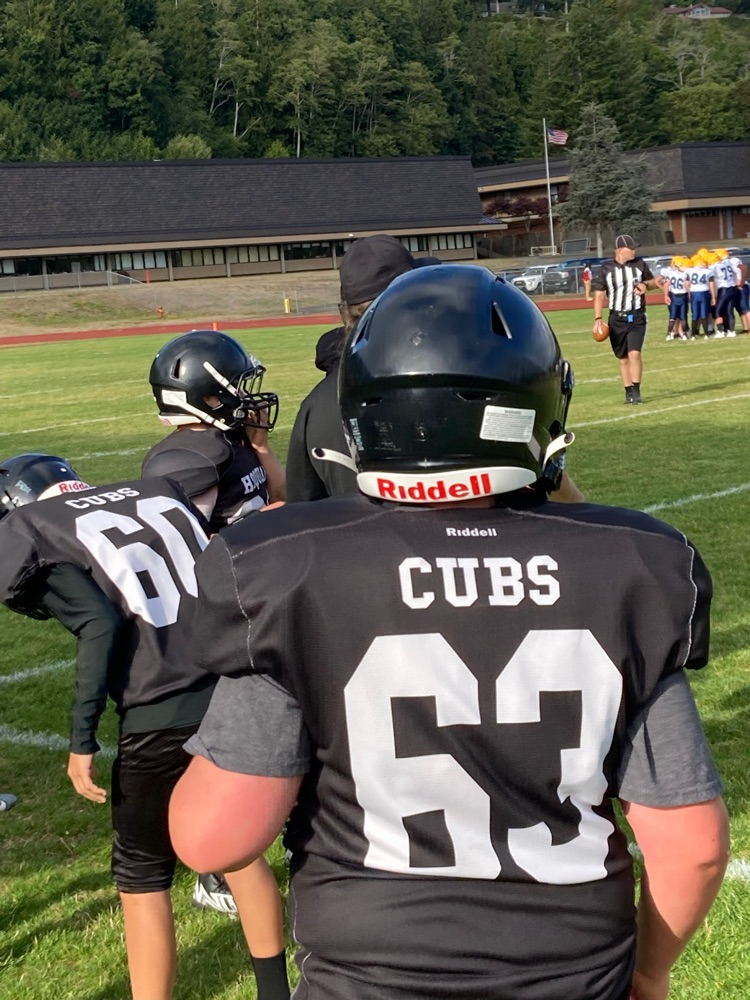 HMS BAND Students: & Parents: Please return your instrument forms by Friday, so we can complete instrument checkout and start playing! Also, to anyone who may have gently used clarinets, trumpets and flutes, or any musical instrument, we have a larger number of beginning band students, and are looking for ways to ensure access to instruments. If you would like to loan, or donate, please call the HMS office to let us know. (360)538-8220. Thank you!

HMS Parents and Students: Congratulations to Mr. Allan's homeroom who jumped out to an early lead in the Cubby McStuffin Homeroom Trophy of Awesomeness (seen not so prominently displayed in the first row of the picture). Homerooms will be competing in class competitions in assemblies and in the classroom. Score is being kept throughout the year, so it is not too late to start your Cubby McStuffin Homeroom Trophy of Awesomeness leaderboard!