Some more items for this week: 1. Students who have paid for ASB cards will be getting them this week. 2. Thursday is an assembly schedule as we have our September assembly. We are asking our athletes to please wear their jerseys/uniforms for the assembly as we will be highlighting them. 3. Friday is "Orange Shirt Day"- This event is being sponsored by our Native Education program to commemorate and draw attention to the thousands of native students who were taken from their homes and put into boarding schools in the 19th and 20th centuries. If students wish, they are encouraged to wear an Orange Shirt. 4. This Friday is a 1 hour early release. HMS will dismiss at 1:50 pm.

Here is our Week at a Glance for next week: September 26-30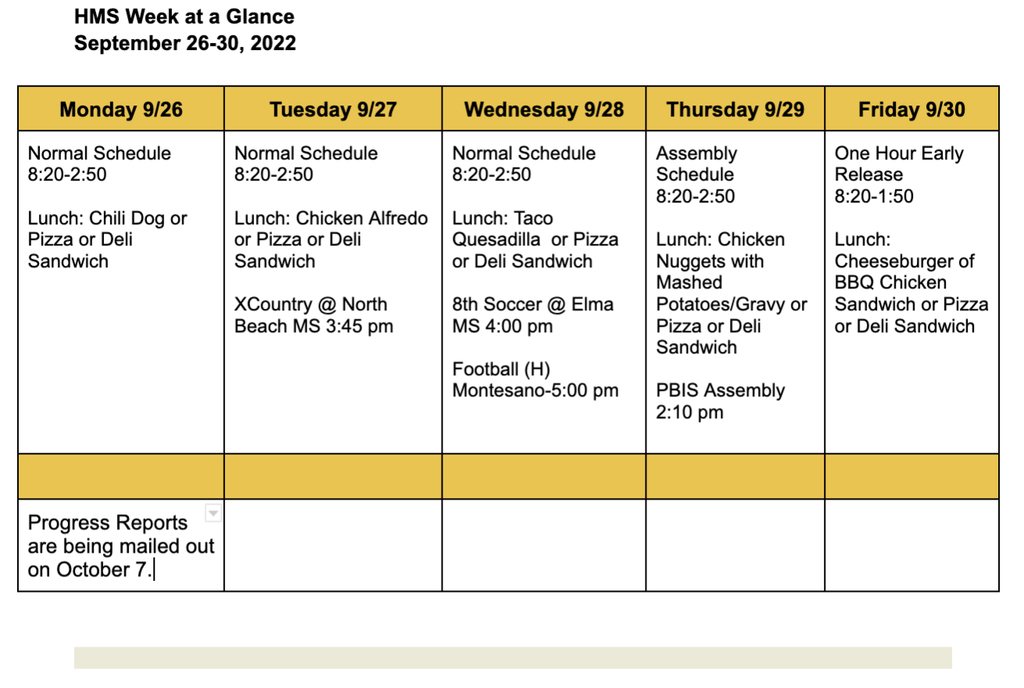 Reminder-All Hoquiam Schools dismiss an hour early on Friday. At HMS that is a 1:50 release!

Students are bringing home Puyallup Fair Tickets for this weekend, today. If you don't have weekend plans, we hope you will consider this!

We apologize for those of you who are excusing your student's absences, and still receiving our attendance auto-dialer messages and texts. We are trying to get this resolved. If you have excused your student prior to the message, please disregard the autodialer/text. We will update you as soon as we get this fixed. Thank you!

This Friday, HMS will be conducting grade checks for students in athletics. If you have a student in athletics, we are asking them to ensure that they are caught up in their classes. Students who are not will be assigned study table.

Todays Soccer match with Tumwater Middle School scheduled for 4:00 at Emerson has been cancelled. Tumwater cannot get a bus. We are sorry for the late notice. Practice at 3:00 as normal.

Weekly Schedule for September 19-23.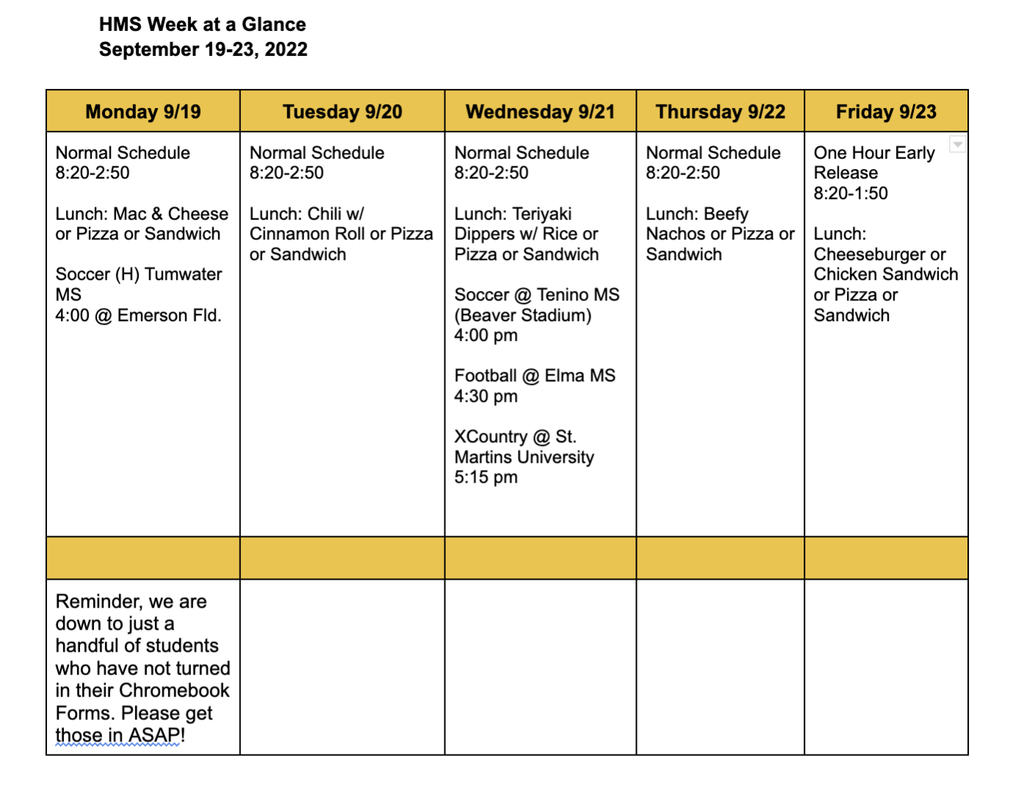 HMS Open House Information: Parents, you are invited to come to our open house on Thursday, September 15. The event will run from 5-7 p.m. and offers you a chance to speak with your student's teachers. It is an open format, so you may speak with your teachers in any order. Calendar information, and contact information will also be available. We look forward to seeing you!

There has been a change in the football schedule this week. Our game on Wednesday will not be at Bush MS, but now will be at Miller Jr. High. A shorter drive, at least! Kickoff is scheduled for 5:00 p.m. Here is a link to our most up to date schedules, but for those who are new to middle school athletics, changes DO happen, so please check it often!
https://www.arbiterlive.com/Teams?entityId=33572

Parents- A friendly reminder to call the office before 1:30 for any changes to after school routine! (riding the bus home vs. getting picked up, someone else picking up, etc.) Thank You!

Due to the smoke in the air, cross-country practice is cancelled for Friday, September 9. Students on the team will be available for being picked up or taking the bus home right after school.

Week at a Glance for next week: Some highlights: Sports begin competition with all three in action! First Friday Early Release of the year (1:50 @ HMS).

Students and Parents: We were informed that the After School Program will not begin until October. There is apparently some retooling going on in the program. It was originally set to begin next week. There will be no After School Program until further notice. We are sorry for the inconvenience. Please call the office if you have further questions, and stay tuned for updates!

Open House Change of Date--HMS is moving its open house from Thursday, September 8 to Thursday September 15. This is due largely to the fact that we didn't want to compete with a varsity Football game also scheduled for that evening. It created conflicting events for some of our parents and staff. We are sorry for the last minute change. If you have questions, please call our office at 360-538-8220.

Parents--Chromebook forms are coming home with your student. These forms allow them to check out a chromebook for the year. Please read through them, and if you agree, sign the form and have your student return it to their first period teacher. If you have questions, please call us at 360-538-8220.

HMS, like much of the Hoquiam School District has new hours this year. School will begin at 8:20 am, and end at 2:50 pm. The building will be open at 7:40 for those getting breakfast.

Fall Sports Begin Monday! We have the following first day of practice times: Football and Girls Soccer will begin at 3:00 at Hoquiam Middle School. Cross Country will practice at Sea Breeze Oval beginning at 4:30. Be watching in Final Forms for any changes. Good luck to our fall sport athletes!

Here is a rundown of the final week of school. Reminder to parents that Tuesday, June 14 is a 90 minute early release (1:05) and Wednesday, June 15 is a half day release (11:05 am).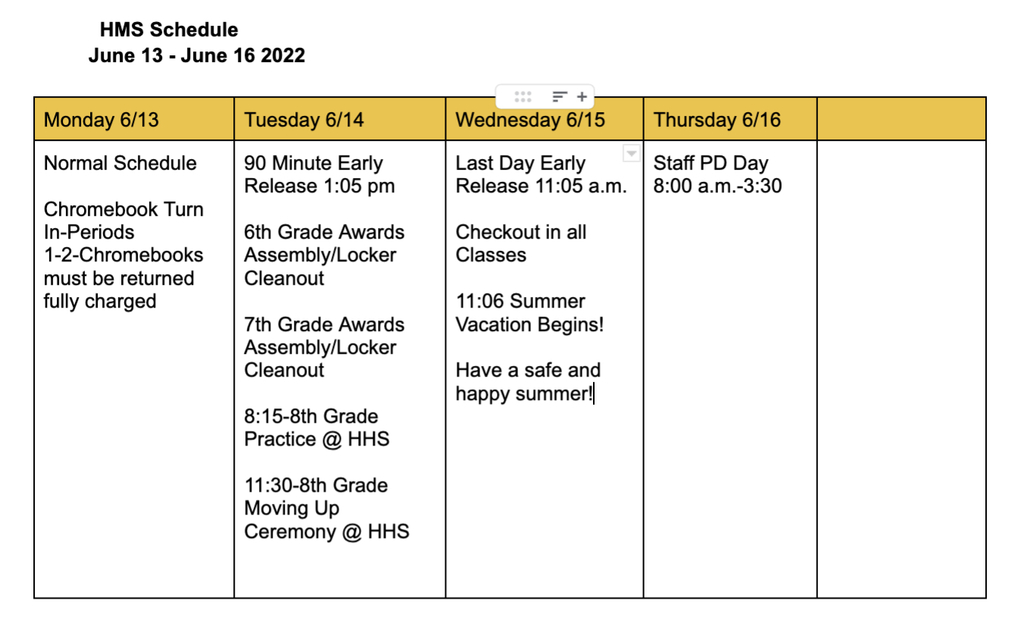 Reminder that tomorrow (Monday) is the Chromebook Turn In for HMS. Please make sure the Chromebook is fully charged, and that it is turned in with the power cord. Thank you!