Through a collaboration with the Grays Harbor Public Health, ESD 113, DoH, and Health Commons the Hoquiam School District is excited to announce our upcoming Childhood Immunization Clinic. The clinic will be held at Central Elementary in the Gym on Saturday Nov. 5 from 9am-5pm. Vaccines offered: DTaP/Tdap, Hepatitis B, Hib (Haemophilus influenzae type B), MMR (Measles, mumps rubella), PCV (Pneumococcal Conjugate), Polio, Pediatric flu, HPV, and COVID (including adult bivalent) To learn more about what vaccines are required for students, click
https://doh.wa.gov/sites/default/files/2022-05/2022-2023%20Parent%20School%20Chart.pdf?uid=634986d62fcf2
This clinic is open to any students in the area, not only Hoquiam Students. Any children 6 months old and up are welcome to participate. All students under 18 must be accompanied by a parent or legal guardian. There is no cost to the families and no insurance or proof of residence required. Bring your insurance card and/or vaccination record only if you have them. There is no appointment needed, this is drop in clinic. Food and refreshments will be provided as well as a limited number of $20 gift cards while they last. The Hoquiam School District is proud partner with these organizations to support a Healthier Grays Harbor. If you have questions feel free to contact our district nurse, Rhianna Culican @
rculican@hoquiam.net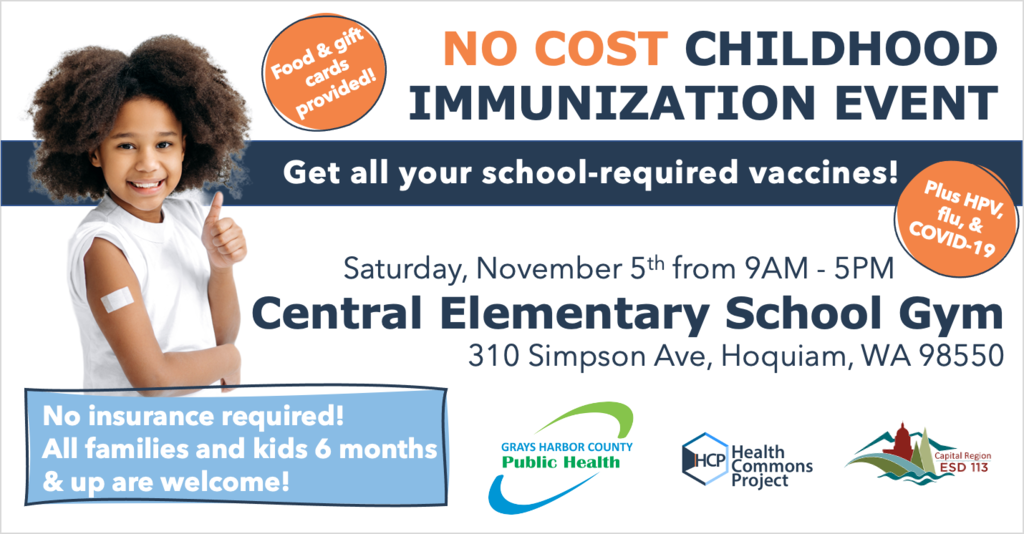 HMS Robotics sponsoring a Lego Drive! Please see attached flyer for more information!

Week at a Glance: Its conference week in Hoquiam. HMS will have their evening conferences on Monday from 5:00-8:00 pm. Afternoon conferences will be on Tuesday, Wednesday and Thursdays. HMS will have 11:20 dismissal this week from Tuesday-Friday. If you have not signed up for a conference yet, please call our office at 360-538-8225. Thank you to all of the chaperones and students for an amazing dance on Friday...great costumes, and off the charts energy...215 students attended! We will do it again soon!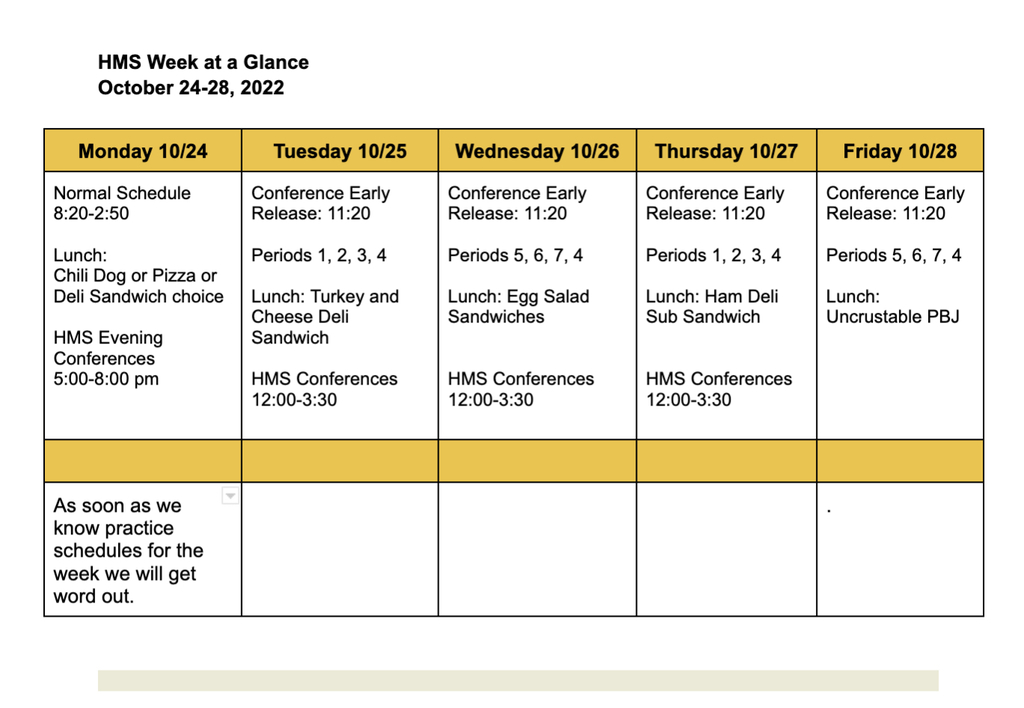 How could I have forgot this??? Please add to our weekly events for Friday, October 21...Monster Mash Dance from 7-9 pm at HMS. $5 with costumes, $6 without. This dance is put on by our ASB, and is our first dance in three years. Costumes need to be school appropriate.

Week At A Glance: October 17-21. Reminder that Conference Sheets are due Wednesday, we have an Earthquake Drill Thursday; and Friday is a half day with students released at 11:20 a.m. Enjoy the weekend!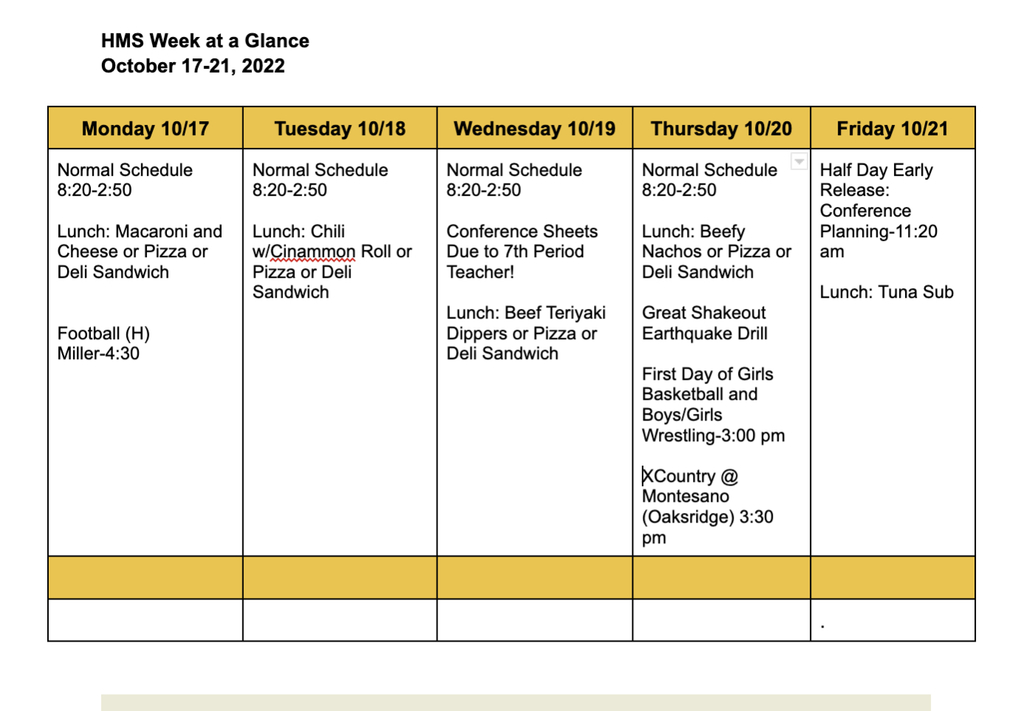 Students will be bringing home Conference information today from school. Conferences will be Monday, October 24 5:00-8:00 pm; Tuesday, October 25 12:00-3:30; Wednesday, October 26 12:00-3:00; Thursday, October 27 12:00-3:30. School will be dismissed that week at 11:20 a.m., Monday-Friday. Please schedule a time to come in, and have your student return the form sent home on Thursday to their 7th period teacher by October 19. You will be able to talk to as many of your student's teachers as you need to, as this round is arena style. For more information, call our main office, 360-538-8220.

Middle School Girls Basketball and Boys and Girls Wrestling begin on October 20, which is next Thursday!! Reminder to parents to please make sure forms are completed in Final Forms prior to Monday. Athletes will need a current physical and an ASB card. For more information, please call the main office, 360-538-8220. Copies of directions for how to access and fill out Final Forms are available in the office if they are needed.

HMS Week at a Glance for this week. Reminder: NO SCHOOL MONDAY for students. It is a district professional development day. Girls Soccer closes out their season hosting Miller on Monday. Football and XCountry in action on Wednesday. 60 minute early release Friday.

Pushed "Send" too quickly...We want to congratulate our students who achieved perfect attendance for the month of September! Thank you for the team effort it takes to be at school every day. Way to go Cubs!

September Perfect Attendance 6th Grade Samuel Billie-Luna, Iker Garcia-Boyzo, Grady Hunt, Rinzy Hunt, Jason Jerome, Enrique Juarez, Carlos Lopez Perez, Kenneth McCoy, Tyson Moore, Aden Warness 7th Grade Keagen Billie-Sansom, Audrey Cady, Jack Christensen, Hannah Dhooghe Evanna Farden, Kamden Fowler, Monica Garcia, Axel Garcia-Boyzo, Gavin Goodenough, Talan Hunt, Flaviodaniel Juarez Lopez , Ronald Landon, Madyson Lillie, Karli Linville, Michael McLucas, Iliana Membreno, Kaylee Paladin, Luna Santiago, Connor Schnoor, Tristan Turpin, Aleara Watkins 8th Grade Aaliyah Aranda, Trevon Chavis, Hannah Foz , Trenton Graham, Angel Gregorio, Ramirez Aden Hartt, Joshua Jones , Derek Kinney, Justice Larsson, Alexis Le Ryker Maxfield, Ashlynn McClure, Halle Nguyen, Lincoln Niemi, Aldeen Olvera-Obi, Anthony Salazar, Byron Servellon Ayala , Mya Standstipher, Josue Torres, Quintyn Zarate-Foster

Families: A reminder that Monday, October 10 (next Monday) is a district Professional Development day. There will be no school for students districtwide on that day.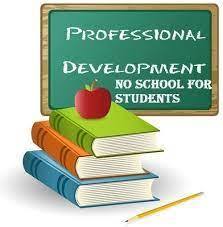 Our Week at a Glance for this week. It is Hope Week all week long, and Wednesday is our Picture Day. If you haven't received an email from Jostens yet, please let us know.


Some more items for this week: 1. Students who have paid for ASB cards will be getting them this week. 2. Thursday is an assembly schedule as we have our September assembly. We are asking our athletes to please wear their jerseys/uniforms for the assembly as we will be highlighting them. 3. Friday is "Orange Shirt Day"- This event is being sponsored by our Native Education program to commemorate and draw attention to the thousands of native students who were taken from their homes and put into boarding schools in the 19th and 20th centuries. If students wish, they are encouraged to wear an Orange Shirt. 4. This Friday is a 1 hour early release. HMS will dismiss at 1:50 pm.

Here is our Week at a Glance for next week: September 26-30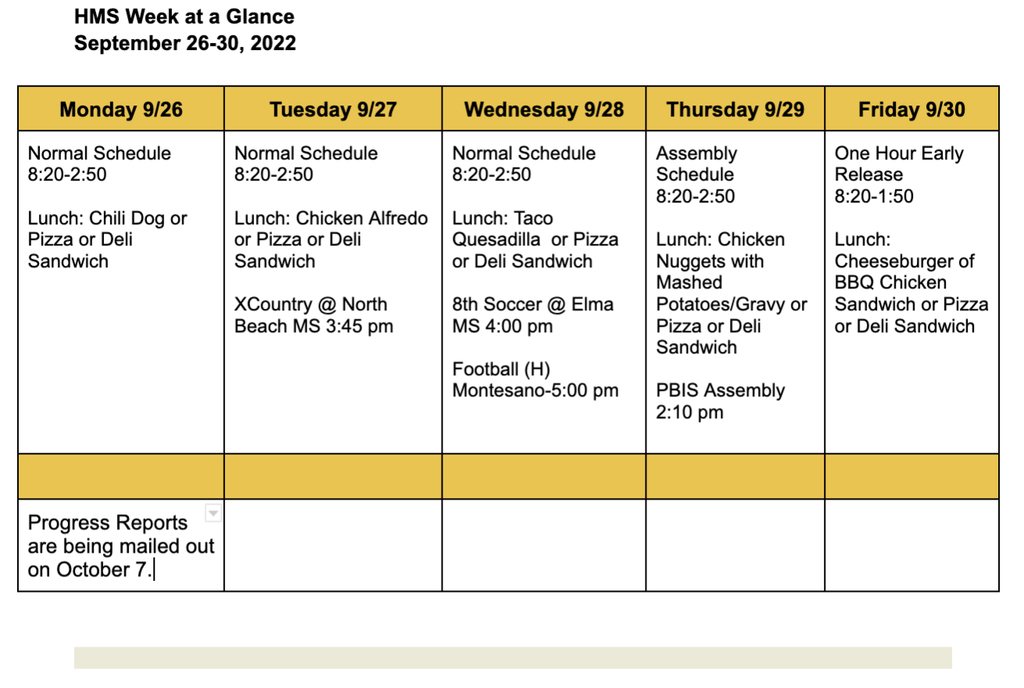 Reminder-All Hoquiam Schools dismiss an hour early on Friday. At HMS that is a 1:50 release!

Students are bringing home Puyallup Fair Tickets for this weekend, today. If you don't have weekend plans, we hope you will consider this!

We apologize for those of you who are excusing your student's absences, and still receiving our attendance auto-dialer messages and texts. We are trying to get this resolved. If you have excused your student prior to the message, please disregard the autodialer/text. We will update you as soon as we get this fixed. Thank you!

This Friday, HMS will be conducting grade checks for students in athletics. If you have a student in athletics, we are asking them to ensure that they are caught up in their classes. Students who are not will be assigned study table.

Todays Soccer match with Tumwater Middle School scheduled for 4:00 at Emerson has been cancelled. Tumwater cannot get a bus. We are sorry for the late notice. Practice at 3:00 as normal.