6th Grade Parents-Great opportunity for our 6th grade students. Prior to the Covid Pandemic it was a yearly tradition to have the 6th Graders from Harbor schools attend the Nutcracker Ballet put on by the Pacific Northwest Ballet Company. This year, due to the lack of bus drivers, and the fact that no one in our office has been a part of this, it looked like we were going to miss out on this. But thanks to Jessica Hoover from the Grays Harbor Community Foundation, and Ms. Glasgow, who has been working the phones like a Rock Star...and a lot of help from the North Beach School District transportation folks...it looks like our 6th graders will get an opportunity to bring this tradition back this year. We are sending home permission/information slips today (Wednesday) for your student to attend. We really need those slips back by Wednesday, November 30 because we need a count for tickets and transportation. Wednesday is a HARD deadline. If you are interested in chaperoning, there is an option on the permission slip. There are limited numbers of spots for chaperones, so first come first served. Chaperones must be able to pass a background check. For more information, please call the HMS office...360-538-8220. Thank you and have a wonderful Thanksgiving.

Monday 11/21: The after school program site supervisor is ill, and thus we need to cancel After School Program at HMS today. Students should take their normal means of getting home. Sorry for the late notice, we just received word.

Here is our Week at a Glance for this week: Reminder we have a 90 minute early release on Wednesday, which means school is dismissed at 1:20. No School Thursday and Friday for Thanksgiving Break. We hope you all are able to find and celebrate the things you are thankful for!

Due to illness, there are no E-Sports today (Tuesday, November 15). Stay tuned daily...

Music Students-Jingle Jammers is looking for you! Jingle Jammers is open to all high school and middle school instrumentalists interested in playing Holiday music around our community over the next few weeks. Practice is afterschool or evenings, mostly on Tuesdays (3:00-4:00 pm or 6:00-7:00 pm...students can attend one or both). Parents must get them to and from practices, and they are held at the high school Music Building. There is a permission form that has to be signed. For more information please contact Ms. Susan Peters, 360-538-8210 ext 1502 or email her at
speters@hoquiam.net
. A practice schedule and information is available through Ms. Schmidt, or Mr. Cook.

Hoquiam High School's Native Education Club is hosting a Cultural Night on Wednesday, November 16 at the HHS Cafeteria. It runs from 5:00-7:00 pm. All are welcome. The focus will be on differing perspectives on Thanksgiving, and will feature members of the Quinault Indian Nation, who will share their perspective, and share the story of the Three Sisters. There will be Fry Bread and Chili, crafts and activities, and raffle prizes. For more information, please contact Sandy Ruiz at 360-538-8210 ext. 3522, or email
sruiz@hoquiam.net
.

Here is our Week at a Glance for November 14-18. We hope you all had a great Veteran's Day Weekend!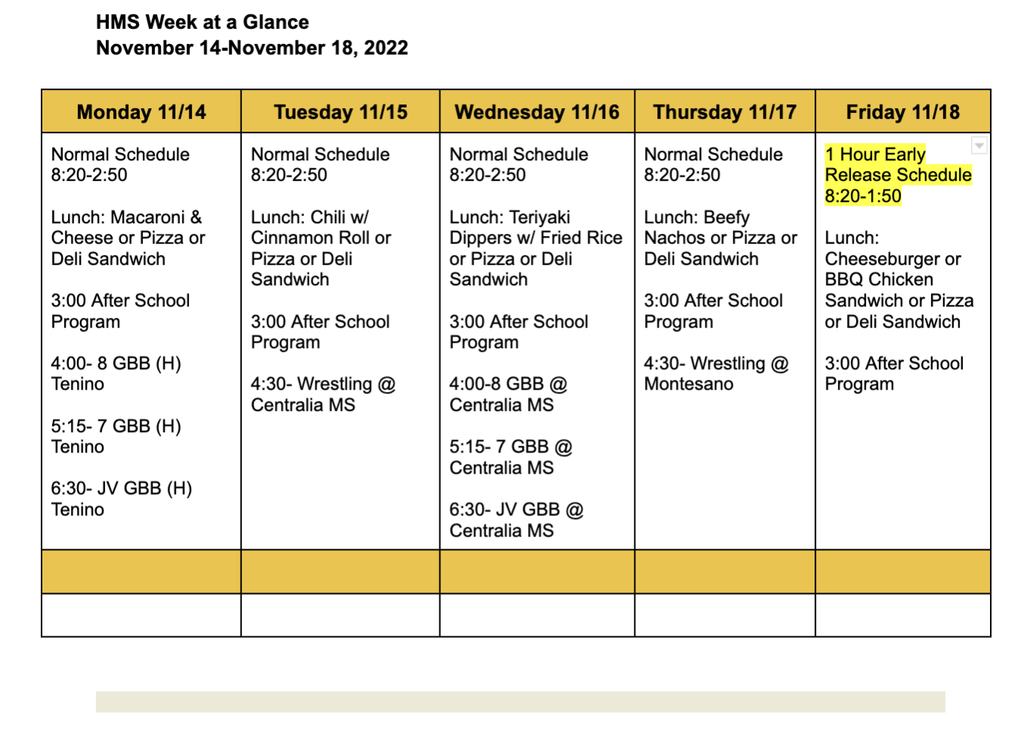 On this Veteran's Day, the staff and students at Hoquiam Middle School, would like to thank our Veterans for their service. Whether you were called and answered, or made the choice to serve, your service deserves our thanks, our respect, and our admiration. Happy Veteran's Day!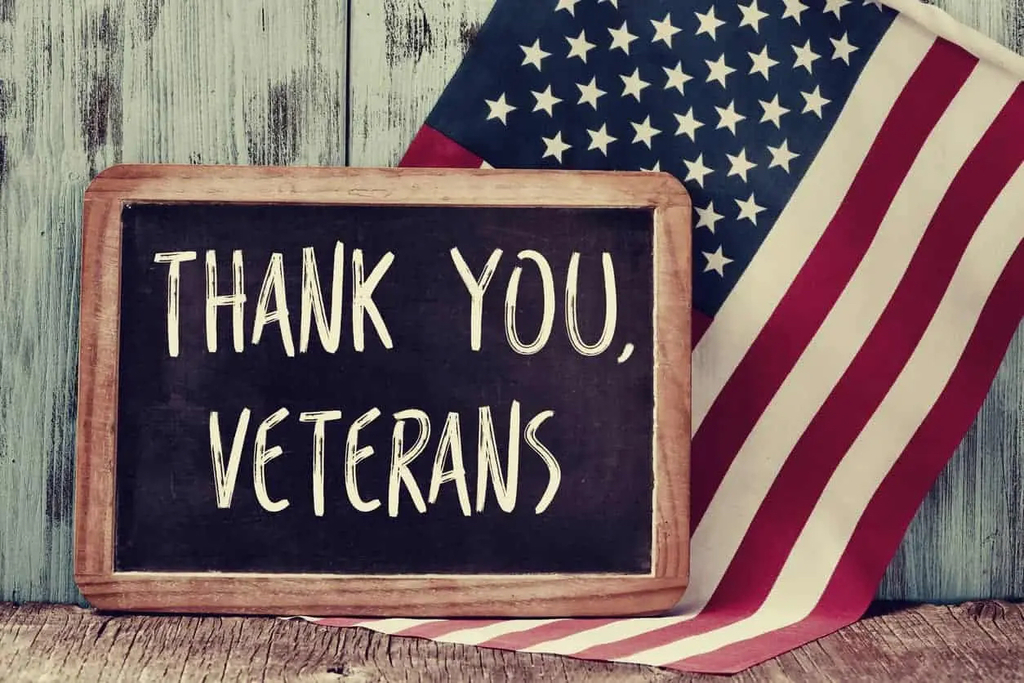 Congratulations and Thank You to our students who have earned PERFECT Attendance for the month of October! **6th Grade--Rodney Chapman; Izabell Deason; Owyn Golder; Audrey Gray; Nathan Gunderson; Cole Lawrence; Carlos Lopez Perez; Kenneth McCoy; Tyson Moore; Maggi Quigg; Alice Weber; Peyton Weidman **7th Grade--Maria Baires Ventura; Brylee Bloom; Kaydence Coleman; Hannah Dhooghe; Kamden Fowler; Nathaniel Furth; Monica Garcia; Nayalle Gum; Oscar Lugo; Michael McLucas; Kaylee Paladin; Ayden Parker; Michelle Reiher; Brailin Sears; Taylor Smith; Gerardo Talamantes; Domingo Velasquez-Tercero; Guadalupe Verdejo-Ambrosio; Lyle Witt **8th Grade--Aaliyah Aranda; Itzia Armas-Enriquez; Hallie Burgess; Daniel Conner; Michael Garcia; Julietta Gonzalez Nieto; Zoe King; Derek Kinney; Hikaru Nakada; Aldeen Olvera-Obi; Mya Standstipher; Madelyn Stuefen; Andrew Vannoy; Gloria Velasquez-Tercero

Wrestlers @ Elma tonight! There has been an unavoidable change in the bus leave time. It is now at 4:00 pm from HMS.

Students will receive 2nd Quarter Schedules in their first period tomorrow. We had to adjust schedules as some classes were over limit, so there will be schedule changes for many of our students. We apologize for the inconvenience.

Coach Rogers has put out this nifty practice and game schedule for Girls Basketball. We are awaiting a couple of schools to input matches on Arbiter for our completed Wrestling schedule.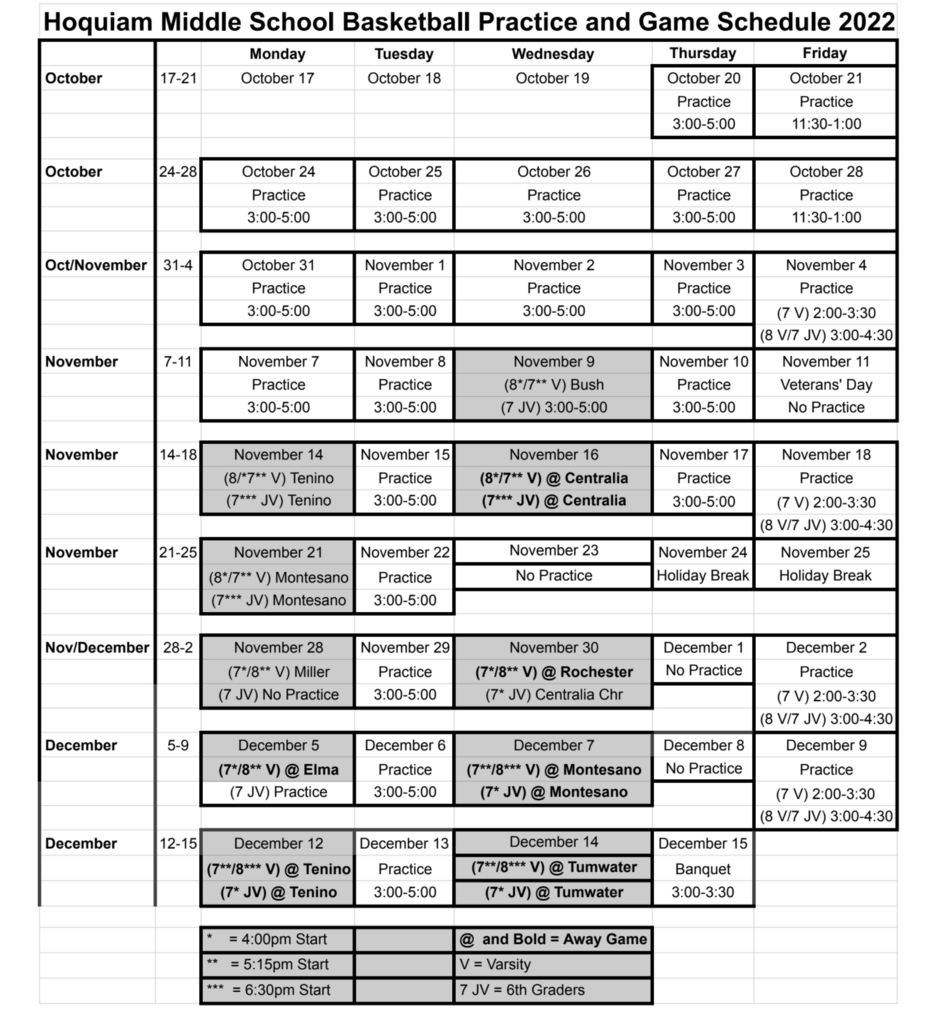 Week at a Glance-After School Program starts on Monday. Athletics kick off their competitive seasons with Wrestling on Tuesday and Girls Basketball on Wednesday. Veteran's Day Assembly on Thursday. No School on Friday in observance of Veteran's Day.

After School Program (ASP) at Hoquiam Middle School will be starting on Monday, November 7th at 3:00 pm in the Middle School Library. It will run until 5:00 pm and is open to all Middle School Students. After School Program for HMS is under the direction of Shawn Larsen. Several activities are being planned, but the activities planned will give students a chance to express themselves and give more students a chance to be involved in student created clubs. The format for each day will be: 3:00-4:00 will be Study Table and homework help. Tutors are being recruited. 4:00-5:00 Activity and Club time. The program wants to get as many kids involved as possible and they look forward to answering any questions you might have.


HMS Week at a Glance for October 31-November 4. We have Reward Bingo on Monday, as well as a Band/Choir performance at the end of the day. Select 7th and 8th grade band members will be performing at the Dallas Brass Concert on Wednesday. Foodball is going on all week, and 1st Quarter ends on Friday. Next week Girls Basketball and Wrestling begin competition, so this is their last full week to get ready.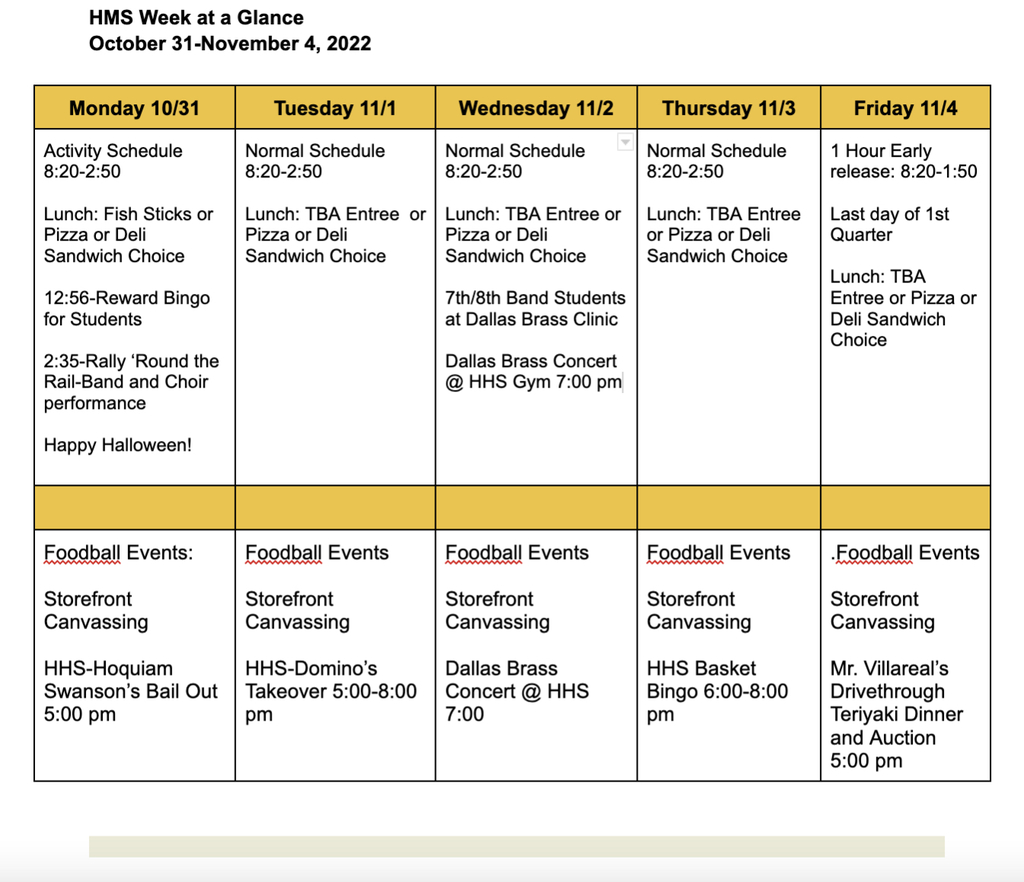 Foodball is under way! Information for making donations, as well as a calendar of events is attached. Once again, both schools are combining their efforts this year. Good luck, the cause is amazing!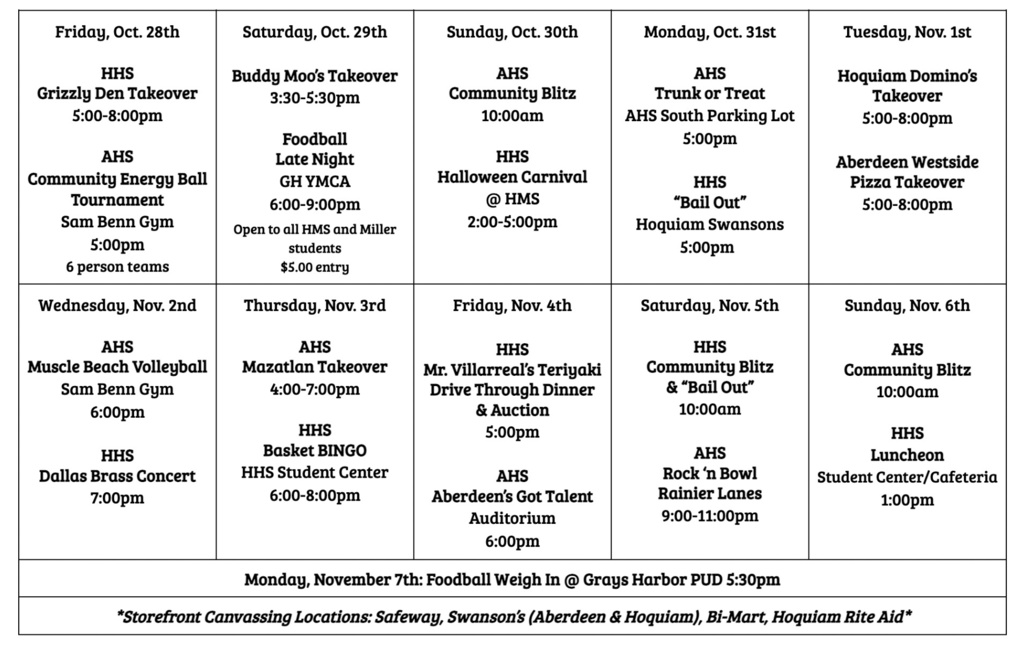 Hoquiam Band, Choir Families and Good Music Lovers...An Exciting Event is coming! Get ready for a once in a lifetime experience with the DALLAS BRASS in the HHS Gym, November 2, 2022. Concert time will be 7:00 p.m. Hoquiam Band Students Grades 7-12 are eligible for a clinic the day of the concert, and get into the concert free. Parents, Family members and the general public must purchase a ticket. Tickets are being pre-sold by Hoquiam music students, or you may pay at the door. Presold tickets are $10 each, while at the door ticket prices are $15 for Adults, $10 for Students/Seniors, and $5 Children (5th Grade and under). If you want to buy tickets before the night of the concert you may contact Ms. Brenda McCoy, at
bmccoy@hoquiam.net
, or call her at 360-538-8210, extension 1501.

Sports Practice Schedule: Conference Week Monday 10/24-Wrestling 3:00-4:45 pm; Girls BB 3:00-5:00 pm--Tuesday 10/25-Wrestling 3:30-5:15 pm; Girls BB 3:00-5:00 pm--Wednesday 10/26-Wrestling 3:30-5:15 pm; Girls BB 3:00-5:00 pm--Thursday 10/27-Wrestling 3:30-5:15 pm; Girls BB 3:00-5:00--Friday 10/28-Wrestling 11:30-1:15 pm; Girls BB 11:30-1:00 pm

Veteran's Day Request: Do you have family member living or dead who was in the military? We are creating a slideshow and would like to honor any vets you may have in your family. Do you have a picture of your military relative? If you do we are looking for pictures of veterans from our school student body to include in the Veteran's Day Assembly November 10. Please submit your photo to Mrs, Schmidt by putting it into an envelope with your full name on it and the name and service of your relative so we know who they are. You can also take a picture of your picture with your phone and send it to Mrs Schmidt digitally at
chschmidt@hoquiam.net
. Please be sure to include the name and service of your Veteran Relative. Thank you, and to our veteran's out there, thank you so much for your service.