Homecoming: December 18th 9-12 Please bring slippers or slip on shoes for the gym floor. Pre-Order pictures at the link:
https://bit.ly/HHSHC21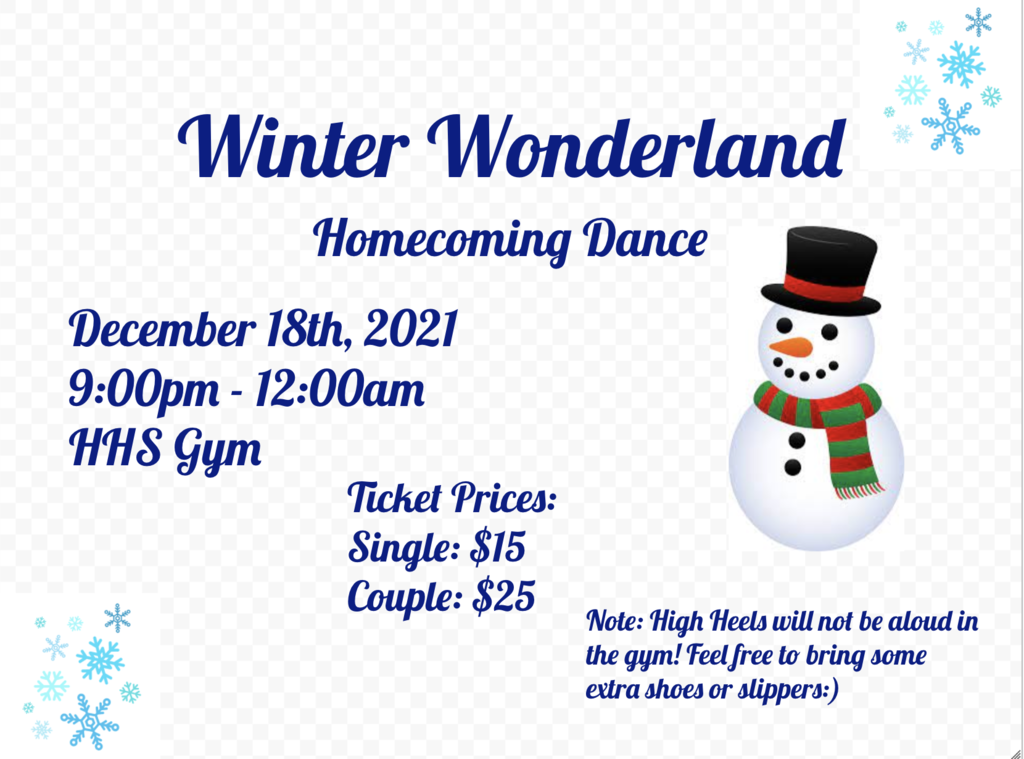 With Winter Sports competing now, we are back with our Grizzly Athlete of the Week! For the week of November 30-December 4th we recognize... Charli Sampson (12) ~ Varsity Girls Basketball Parent is Lisa Sampson Other sports: Fastpitch Favorite Food: Taco's Biggest Influence is her Mom, alongside her brother, Gram, Auntie - mostly her whole family! They always push her to be the best and will help her with anything! College plans are to attend Grays Harbor to get into Nursing. Coach Comments: "Charli had a great game and big program win against Black Hills on 12/2. She had 10 points and 10 rebounds, but more importantly hit the game tying shot at the end of the game to set up a Grizzly win!" Congrats Charli and keep up the great work!
Attention: Boys Basketball Start times adjusted for 12/3 Please spread the word that on 12/3, our home boys basketball contests will have these start times due to Centralia's 4:30pm bus departure time: C Boys @ HMS 6:30pm JV Boys @ HHS 6:30pm V Boys @ HHS 7:45pm Thank you all for making any adjustments needed for the role you have supporting our basketball program.
Our Grizzly Varsity Volleyball team entertained a well attended crowd Thursday October 28th with a 5 set match vs. Montesano. Montesano won 3-2 for the 1A Evergreen Championship title but our Grizzlies qualified as the #2 seed for the 1A District Volleyball tournament that begins Wednesday 11/3. Bracket is attached and our Grizzlies have a great draw for contest one. Let's go Volleyball - we will be cheering for you in Castle Rock and all over Hoquiam Wednesday night!!!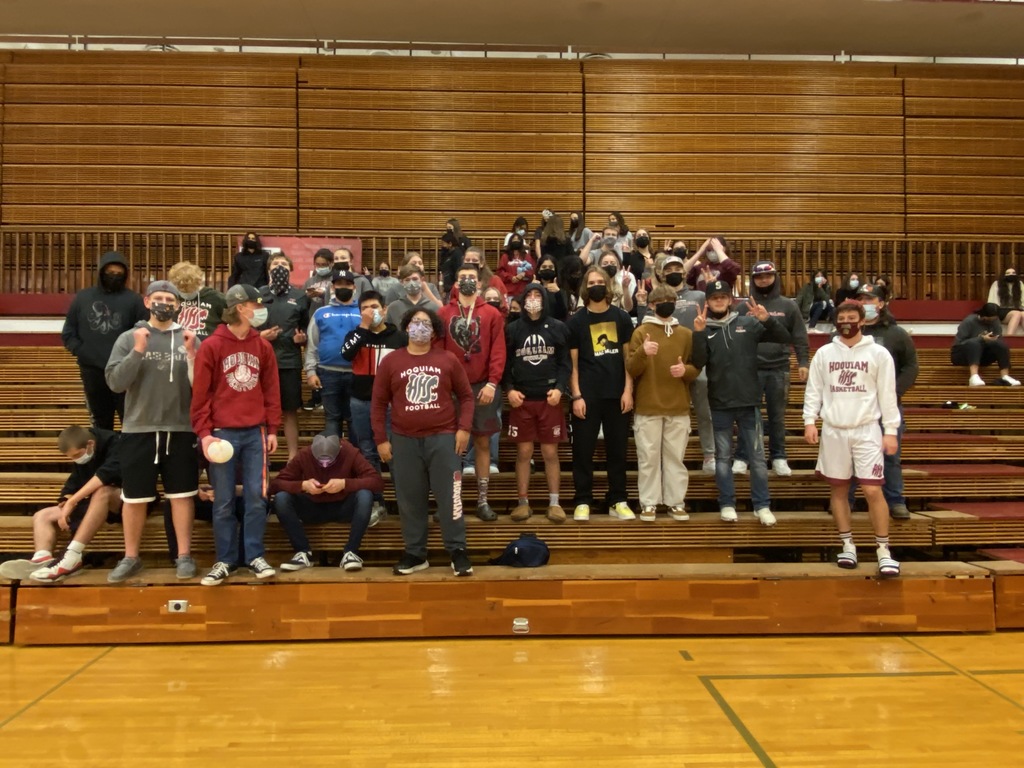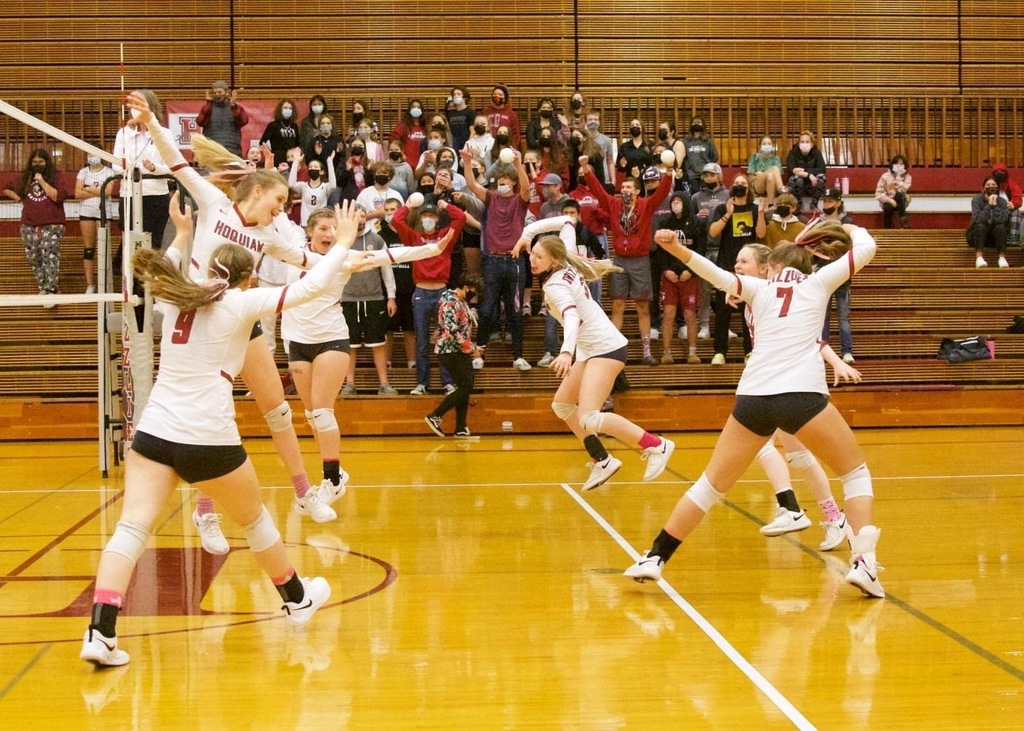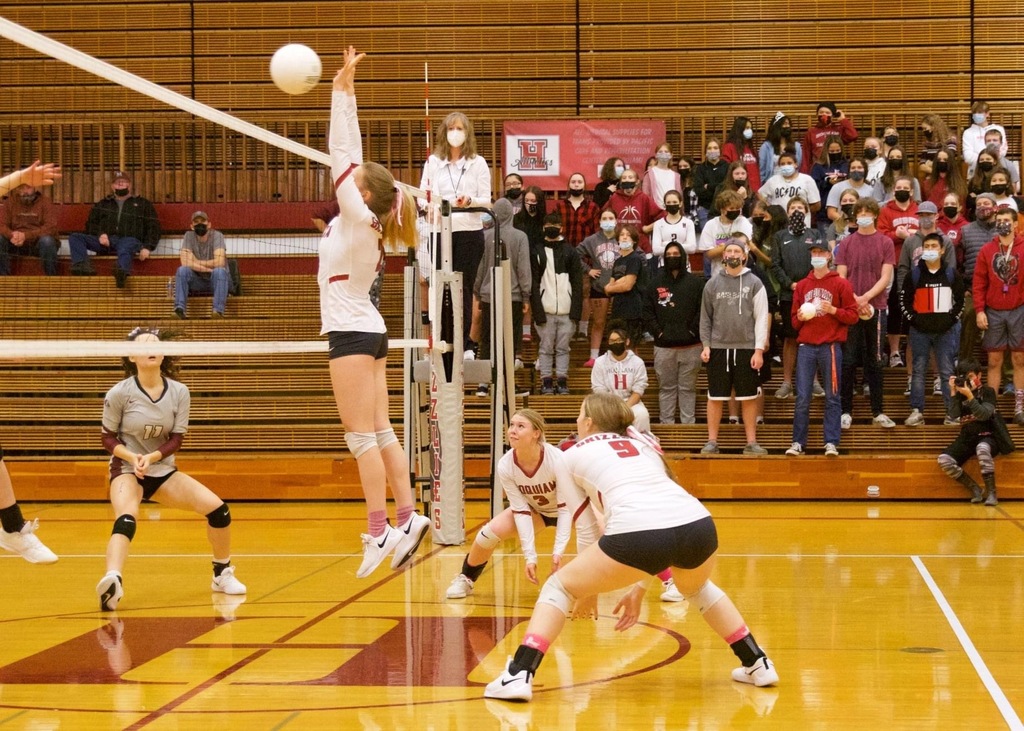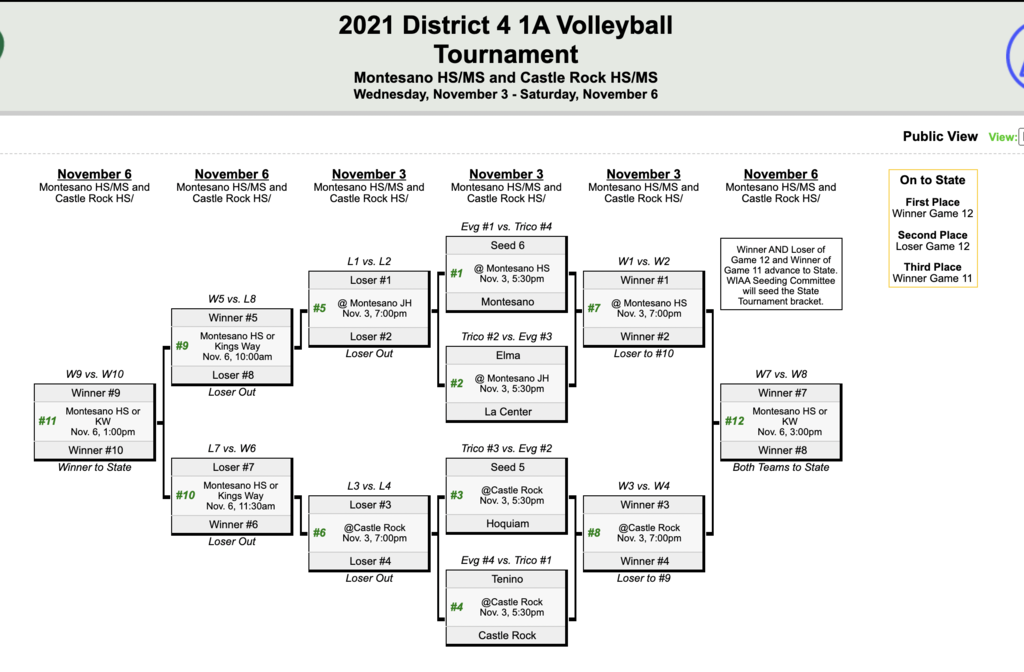 On October 30th, Jane Roloff (10) represented the Grizzlies at the 1A District Cross Country Meet in South Whidbey. The weather was great, the course was a little slippery from a week of rain and most importantly, Jane ran her heart out. Way to go Jane and you represented Hoquiam in great style! GO GRIZZLIES!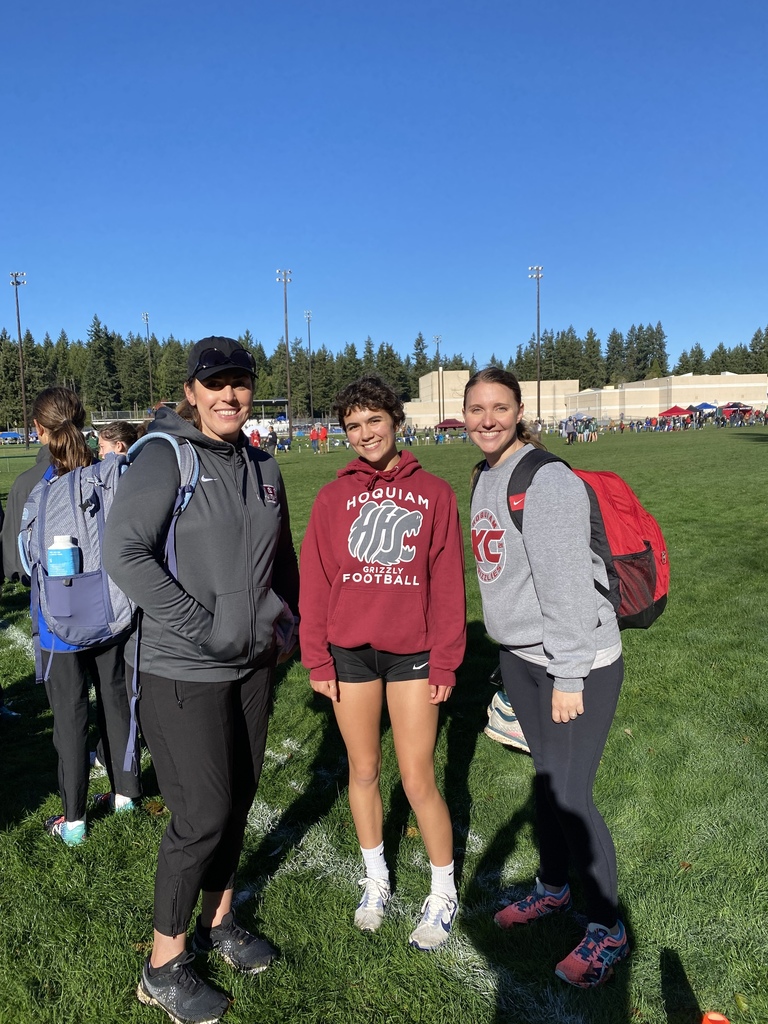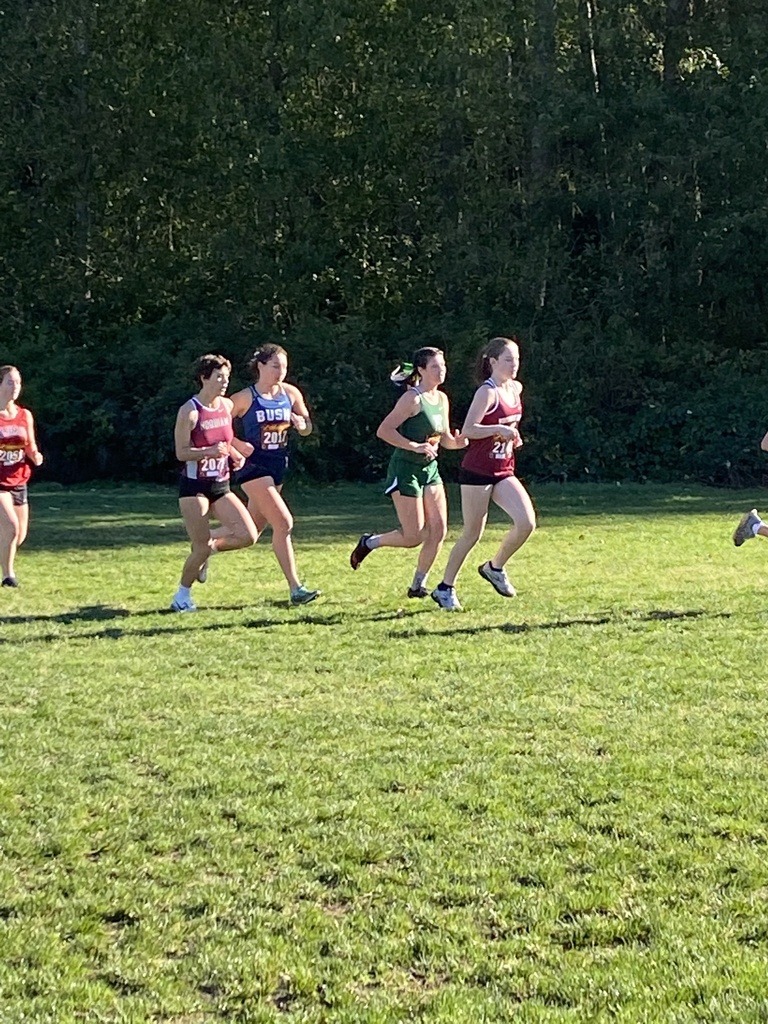 Grizzly Athlete of the Week for October 25-30, 2021 Tim Higgins (11). Cross Country Parents: Kathleen Higgins, JR Higgins Other Sports: Basketball, Track & Field Other school activities/clubs: ASB, Honor Society Favorite food: Mexican Food Biggest influence and why: My coaches. They always push me and give me tough goals to reach. They also support me no matter what and they always acknowledge my hard work which makes me work even harder in competition. College plans: Go to a College with an ROTC program and major in Strategic Analysis. Accomplishments: Timmy is a competitor. He started the season with an injury and has fought his way back to compete this season. Each race he has strategically pushed himself to finish strong. At 1A Districts at Lewis River Golf Course October 28, Timmy ran an 18.11 race placing 10th which qualified him to continue onto the 1A State Championships in Pasco November 6th. This will be Timmy's second State experience in his high school career. He competed at the 1A State Championships as a freshman in 2019. Congratulations Timmy, and best wishes in Pasco this week!
Hi all, Great news to share as we congratulate the following Grizzly 2021 1A Evergreen League All-League Selections: Cross Country: Timmy Higgins (11) State Bound Competitor 11/6 in Pasco Football: Honorable Mention Offense: Zander Jump (10) Owen McNeill (11) James Monroe (11) Honorable Mention Defense: Jalen Hobucket (11) Jake Templer (11) Boys Golf: 1st Team All- League: Mick Bozich (11) Riley Montoure (10) 2nd Team All-League: Nyeki Dayton (12) Tommy Wallace (12) Girls Soccer: 2nd Team All-League: Emma Johnson (12) Forward Briana Herrera (10) Defender Honorable Mention: Katie Burnett (12) Goalkeeper Ellie Winkelman (12) Midfielder Volleyball: Co-MVP: Chloe Kennedy (11) Middle Blocker 1st Team All-League: Kamryn Krohn (12) Outside Hitter Ella Folkers (11) Setter 2nd Team All-League: Kristina Goulet (10) Middle Blocker Honorable Mention: Faith Prosch (10) Outside Hitter Congrats to all these fall athletes for their All-League recognition! GO GRIZZLIES!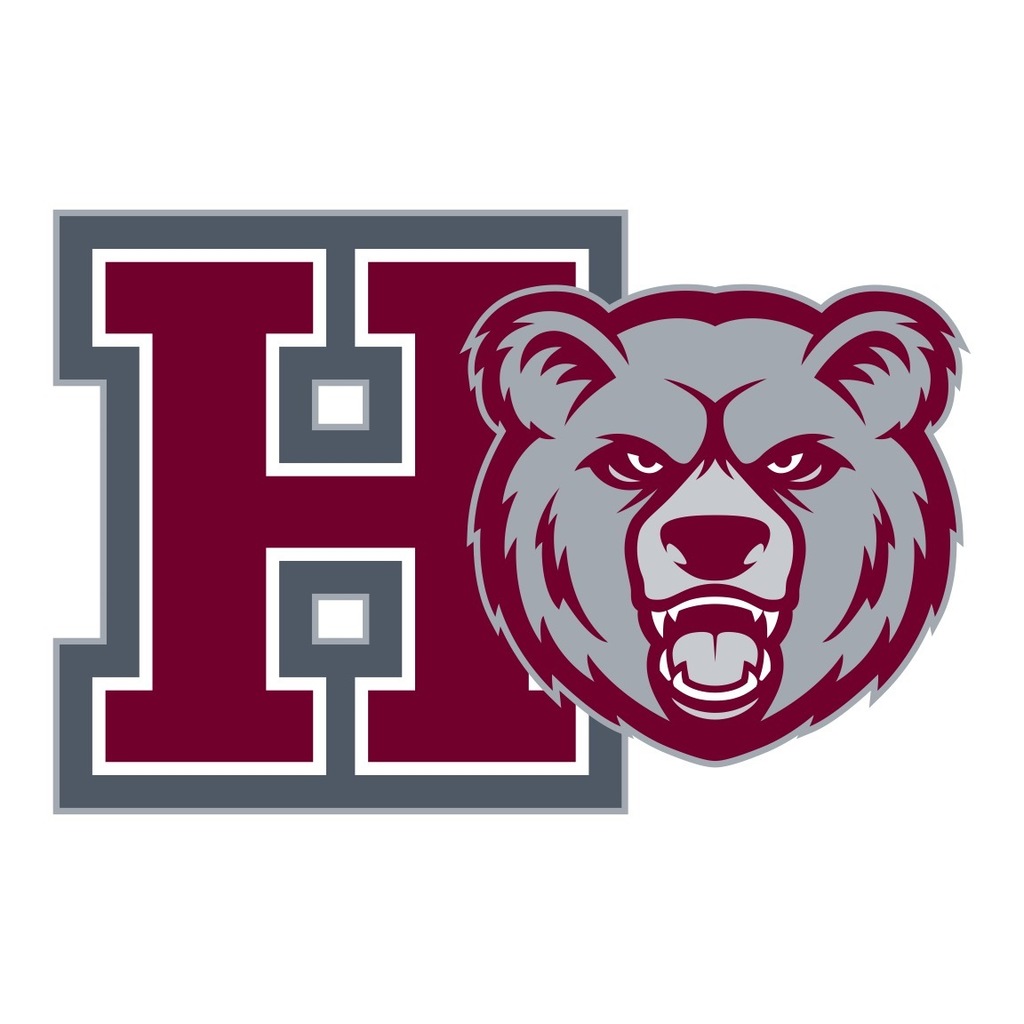 We will not play a Varsity Football game on 11/2 vs. Elma at Olympic Stadium 6:00pm. Please spread the word to everyone. Our 11/6 Varsity Football game at Fort Vancouver 6:00pm is still on.
EXCITING NEWS!!!!! SPIRIT GEAR & ACCESSORIES for all HSD schools can be found at:
https://hoquiamgrizzlies.com/
Online purchases have been extended until November 8th. Each school receives a small profit from each purchase that goes directly to a school account to help offset future expenses for school needed supplies. Please email
aduvall@hoquiam.net
if you have purchase questions or need help. Happy Shopping!
Hi all, News coming in from Lewis River that Timmy Higgins, a Junior, has qualified to compete at the 1A State Cross Country Meet next weekend in Pasco! Final times have not been released yet but Timmy ran 18:20ish at Districts this morning and placed well enough to qualify! Congrats to Timmy, our Cross Country Team & Coaches!!! GO GRIZZLIES!
Grizzly Athlete of the Week ~ October 18-23 is...... Mick Bozich (11) - Varsity Golf Parents: Michael & Heather Bozich Other Sports: Baseball Other school activities/clubs: Band, Jazz Band Favorite food: Watermelon Biggest influence and why: My parents. They tell me to never give up. College plans: To go to Grays Harbor College and then transfer to WSU. Then after that possibly to an Ivy League School. Accomplishments: Mick is a dedicated golfer. He practices year-round continuously working to improve his game. Mick has been extremely consistent this season never shooting more than 2 strokes above his season average. This consistency makes Mick a golfer his team and coach can rely upon to perform. Mick was able to lead a successful effort for the team at 1A Districts being the low scorer for a group that qualified 4 for the state tournament, the most for any team in the 1A Evergreen League. Way to go Mick!!
Friday October 22nd District Golf Update: Mick Bozich placed 5th, Riley Montoure took 6th, Nyeki Dayton placed 8th, and Tommy Wallace took 9th place and they all qualified for the State Tournament to be held in Spokane at the end of May. Dominic Pence improved by 9 strokes on day 2 moving up a few spots on the leaderboard and contributing a Grizzly 2nd place team finish!!!! In a bit of dramatics Tommy and Nyeki tied with a total of 189 with two other golfers requiring a playoff for the final 3 spots to state between 4 golfers. Nyeki won the first hole securing his 8th place finish, and Tommy went on to play an additional 4 holes winning the 5th playoff hold to finish 9th including draining a 12 ft par putt on the 4th playoff hole to extend the match. Congrats to all and way to go Boys Golf!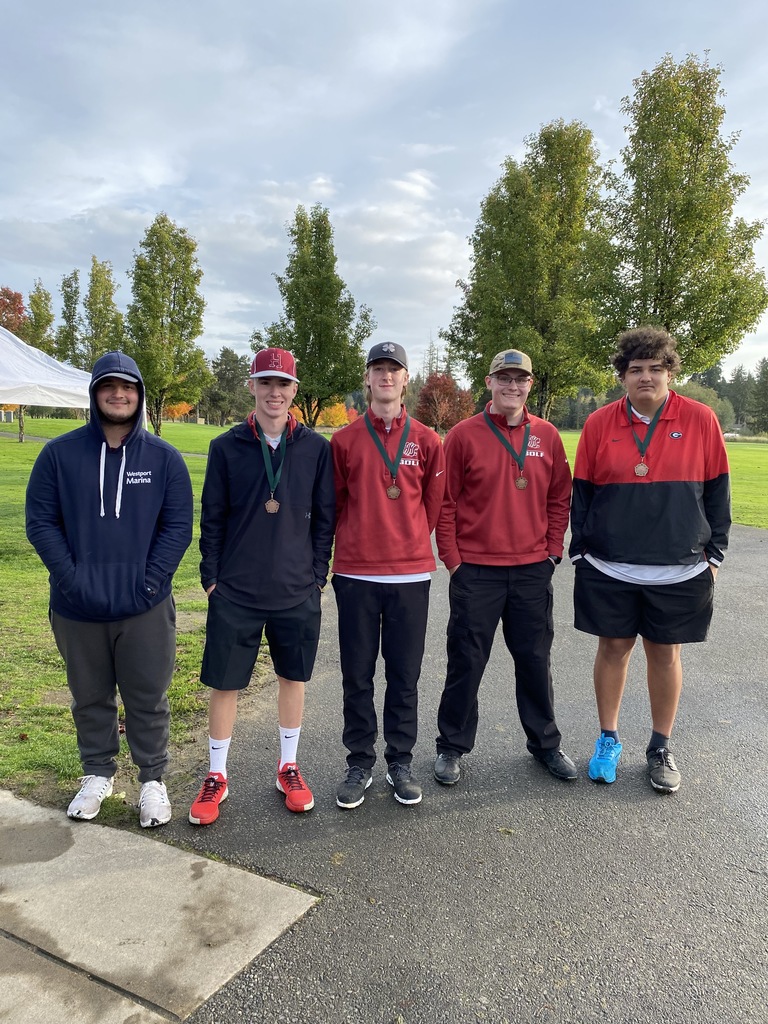 Grizzly Cross Country did fantastic October 21. Hoquiam Boys took 3rd place in the 1A Evergreen League Championships!!!! Highlights: Jane Roloff claimed 2nd for the women's race and set a PR of 22:17 Timmy Higgins took 6th in the men's race and set a SR (season record) of 18:55 Emmett Byron came in 24th with a time of 21:02 Konlan Higgins PR'd with a time of 21:20 Lochlan Odell 23:26 Cody Drake 23:35 Tage Dayton - PR 23:56 Mason Kelly - PR 25:55 Up next for Cross Country is Districts. Boys compete at Lewis River on Thursday October 28th. Girls compete at South Whidbey HS Saturday October 30th. LET'S GO GRIZZLIES!!
Grizzly Boys Golf had a terrific performance at the District Golf Championships October 21! We sent six golfers and five shot well enough to qualify for the finals tomorrow!! Grizzly placement today was: Mick Bozich 3rd Riley Montoure 4th Nyeki Dayton 8th Tommy Wallace tied for 12th Dominic Pence tied for 17th Grizzlies are positioned well for tomorrows final round! LET'S GO GRIZZLIES!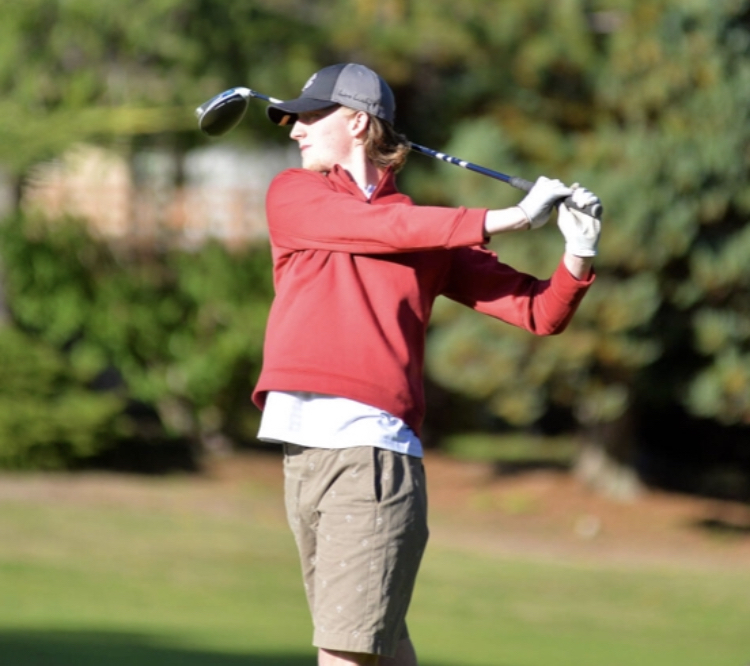 The 2021 ITCHE SHIKAAKE Scholarship is a one-time award of $2,000.00 and will be awarded at the Annual Legal Update Conference. The deadline of October 31, 2021 for submission of the application. For the application, please call 360.538.8409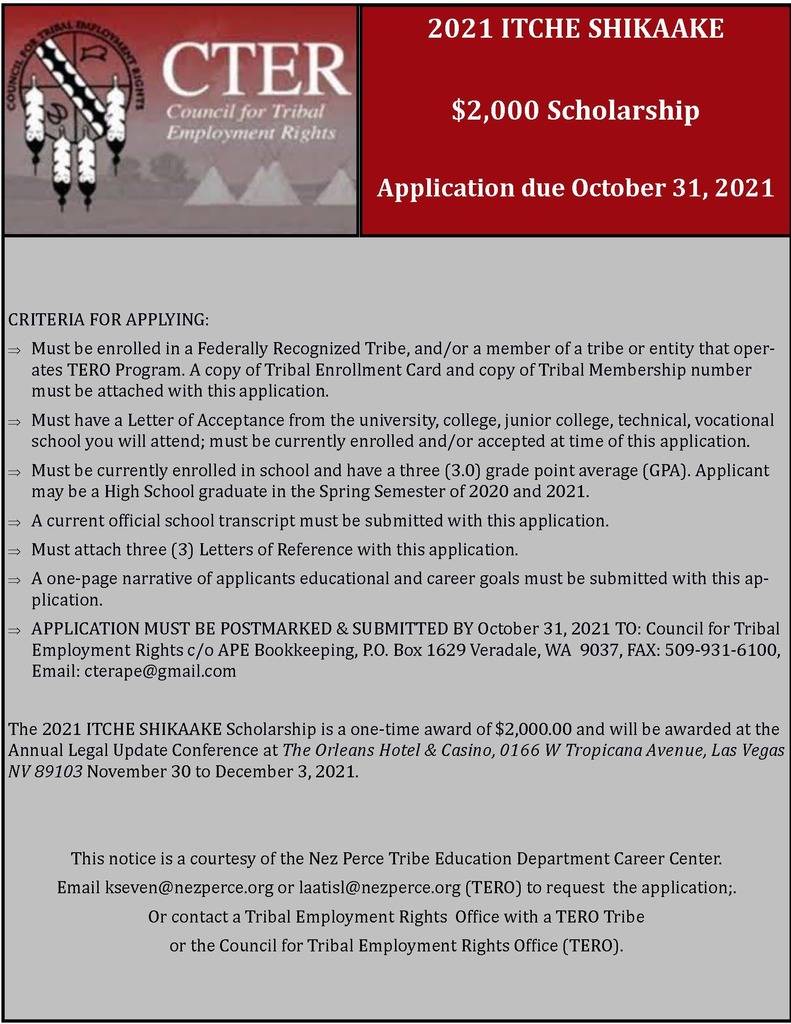 EXCITING NEWS!!!!! SPIRIT GEAR & ACCESSORIES for all HSD schools can be found at:
https://hoquiamgrizzlies.com/
Online purchases are open until November 1st. Each school receives a small profit from each purchase that goes directly to a school account to help offset future expenses for school needed supplies. Please email
aduvall@hoquiam.net
if you have purchase questions or need help. Happy Shopping!

Reminder- Fall Conferences are happening by appointment on: October 19 11:30 - 3:00 October 20 11:30 - 3:00 and 5:00 - 8:00 October 21 11:30 - 3:00 Parents will sign up with their Skyward account. There was a letter sent home that describes the process. We are looking forward to seeing you on zoom or in person!
We celebrated eight 2022 Grizzlies and their families last night at our home soccer match! This special group of eight include: Katie Burnett, Viridiana Cordova-Aguirre, Emma Johnson, Jordan Lutes, Leslie Nieto, Yesica Pena, Jasmine Renteria and Ellie Winkleman. A fantastic group of Grizzlies who have certainly made their mark in the girls soccer program. Congrats 2022 ⚽️ Seniors ❤️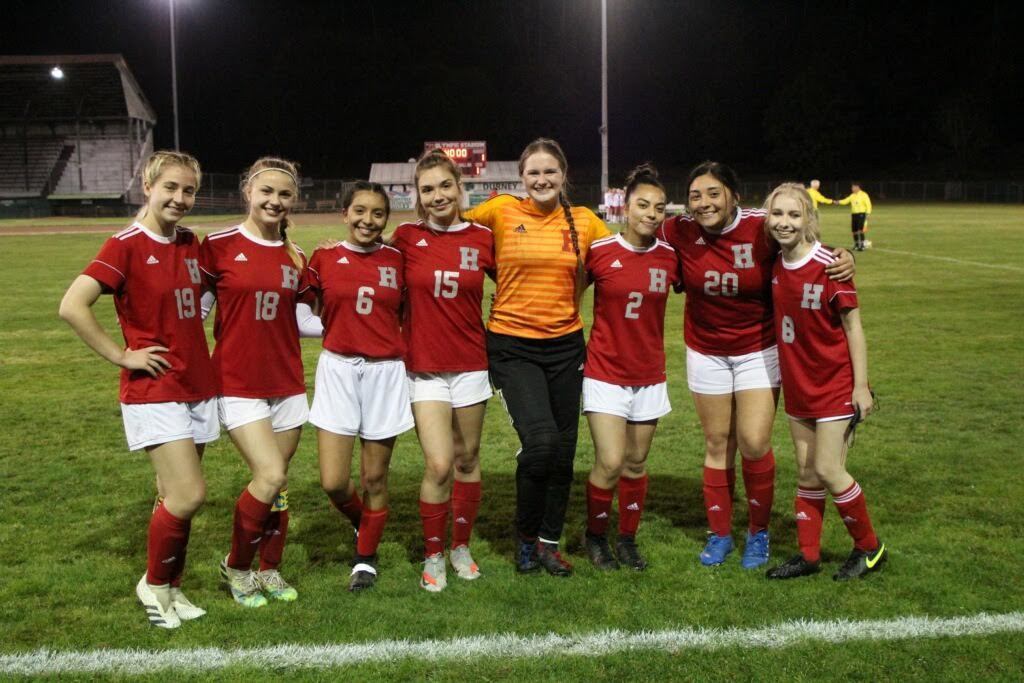 Celebrating our 2022 Senior Golfers today! Thank you Nyeki Dayton, Cody Garman, Thomas Goulet, Justin Hansen, Dominic Pence and Tommy Wallace for your valuable contribution to Grizzly Golf. We will miss each of you!

The ASVAB battery test will be given to juniors and some seniors on October 13, 2021. This battery test takes approximately 3 hours and students can use this as one pathway to graduation. It is highly encouraged that students eligible participate in this opportunity.